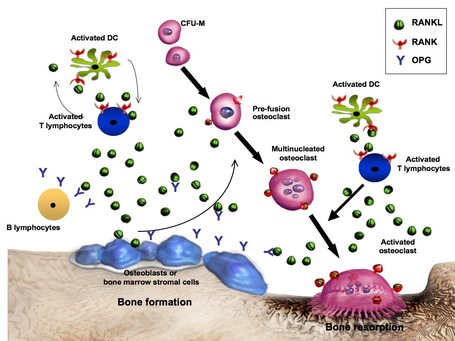 June 13, 2013 — The U.S. Food and Drug Administration today expanded the approved use of Xgeva (denosumab) to treat adults and some adolescents with giant cell tumor of the bone (GCTB), a rare and usually non-cancerous tumor.
GCTB generally occurs in adults between the ages of 20 and 40 years. In most cases, GCTB does not spread to other parts of the body but destroys normal bone as it grows, causing pain, limited range of motion and bone fractures. Rarely, GCTB can transform into a cancerous tumor and spread to the lungs.
Xgeva is a monoclonal antibody that binds to RANKL, a protein essential for maintenance of healthy bone. RANKL is also present in GCTB. Xgeva is intended for patients whose GCTB cannot be surgically removed (unresectable) or when surgery is likely to result in severe morbidity, such as loss of limbs or joint removal. It should only be used in adolescents whose bones have matured
http://www.drugs.com/newdrugs/fda-approves-xgeva-giant-cell-tumor-bone-3815.html
Denosumab is a fully human monoclonal antibody for the treatment of osteoporosis, treatment-induced bone loss, bone metastases, rheumatoid arthritis, multiple myeloma, and giant cell tumor of bone. It was developed by the biotechnology companyAmgen.

Denosumab is designed to inhibit RANKL (RANK ligand), a protein that acts as the primary signal for bone removal. In many bone loss conditions, RANKL overwhelms the body's natural defenses against bone destruction.
In June 2010, denosumab was approved by the U.S. Food and Drug Administration (FDA) for use in postmenopausal women with risk of osteoporosis under the trade nameProlia, and in November 2010, as Xgeva, for the prevention of skeleton-related events in patients with bone metastases from solid tumors.Denosumab is the first RANKL inhibitor to be approved by the FDA. In the summer of 2011 clinical trials were investigating denosumab in giant cell tumors, multiple myeloma with bone metastases, and hypercalcemia of malignancy, and further investigating its dosing and safety.