EIDD 2801
| | |
| --- | --- |
| Molecular Formula: | C13H19N3O7 |
| Molecular Weight: | 329.31 g/mol |
[(2R,3S,4R,5R)-3,4-dihydroxy-5-[4-(hydroxyamino)-2-oxopyrimidin-1-yl]oxolan-2-yl]methyl 2-methylpropanoate
UNII YA84KI1VEW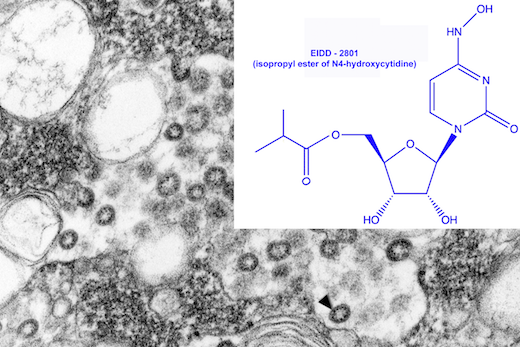 Electron microscope image of SARS virus in a tissue culture isolate, courtesy of CDC Public Health Image Library.
The drug EIDD-1931 was effective against SARS and MERS viruses in the laboratory, and a modified version (EIDD-2801) could potentially be valuable against 2019-nCoV.
https://news.emory.edu/stories/2020/02/coronavirus_eidd/index.html
Emory, collaborators testing antiviral drug as potential treatment for coronaviruses
An antiviral compound discovered at Emory University could potentially be used to treat the new coronavirus associated with the outbreak in China and spreading around the globe. Drug Innovation Ventures at Emory (DRIVE), a non-profit LLC wholly owned by Emory, is developing the compound, designated EIDD-2801.
In testing with collaborators at the University of North Carolina at Chapel Hill and Vanderbilt University Medical Center, the active form of EIDD-2801, which is called EIDD-1931, has shown efficacy against the related coronaviruses SARS (Severe Acute Respiratory Syndrome)- and MERS-CoV (Middle East Respiratory Syndrome Coronavirus). Some of the data was recently published in Journal of Virology.
EIDD-2801 is an oral ribonucleoside analog that inhibits the replication of multiple RNA viruses, including respiratory syncytial virus, influenza, chikungunya, Ebola, Venezuelan equine encephalitis virus, and Eastern equine encephalitis viruses.
"We have been planning to enter human clinical tests of EIDD-2801 for the treatment of influenza, and recognized that it has potential activity against the current novel coronavirus," says George Painter, PhD, director of the Emory Institute for Drug Development (EIDD) and CEO of DRIVE. "Based on the drug's broad-spectrum activity against viruses including influenza, Ebola and SARS-CoV/MERS-CoV, we believe it will be an excellent candidate."
"Our studies in the Journal of Virology show potent activity of the EIDD-2801 parent compound against multiple coronaviruses including SARS and MERS," says Mark Denison, MD, the Stahlman Professor of Pediatrics and director of pediatric infectious diseases at Vanderbilt University School of Medicine.  "It also has a strong genetic barrier to development of viral resistance, and its oral bioavailability makes it a candidate for use during an outbreak."
"Generally speaking, seasonal flu is still a much more common threat than this coronavirus, however, novel emerging coronaviruses represent a considerable threat to global health as evidenced by the new 2019-nCoV," said Ralph Baric, PhD, an epidemiology professor at the University of North Carolina's Gillings School of Global Public Health. "But the reason the new coronavirus is so concerning is that it's much more likely to be deadly than the flu – fatal for about one in 25 people versus one in 1,000 for the flu."
The development of EIDD-2801 has been funded in whole or in part with Federal funds from  the National Institute of Allergy and Infectious Diseases (NIAID), under contract numbers HHSN272201500008C and 75N93019C00058, and from the Defense Threat Reduction Agency (DTRA), under contract numbers HDTRA1-13-C-0072 and HDTRA1-15-C-0075, for the treatment of Influenza, coronavirus, chikungunya,  and Venezuelan equine encephalitis virus.
About DRIVE:  DRIVE is a non-profit LLC wholly owned by Emory started as an innovative approach to drug development.  Operating like an early stage biotechnology company, DRIVE applies focus and industry development expertise to efficiently translate discoveries to address viruses of global concern. Learn more at: http://driveinnovations.org/
Emory-discovered antiviral is poised for COVID-19 clinical trials
The nucleoside inhibitor has advantages over Gilead's remdesivir but has yet to be tested in humans
https://cen.acs.org/biological-chemistry/infectious-disease/Emory-discovered-antiviral-poised-COVID/98/i12?utm_source=Facebook&utm_medium=Social&utm_campaign=CEN&fbclid=IwAR1yIuxNNrelRhKBdPp2hz3oRlqFrDtFYgTPEEORPf1G2R30RIhPIYD9Iwg
Asmall-molecule antiviral discovered by Emory University chemists could soon start human testing against COVID-19, the respiratory disease caused by the novel coronavirus. That's the plan of Ridgeback Biotherapeutics, which licensed the compound, EIDD-2801, from an Emory nonprofit.
EIDD-2801 works similarly to Gilead Sciences' remdesivir, an unapproved drug that was developed for the Ebola virus and is being studied in five Phase III trials against COVID-19. Both molecules are nucleoside analogs that metabolize into an active form that blocks RNA polymerase, an essential component of viral replication.
But remdesivir can only be given intravenously, meaning it would be difficult to deploy widely. In contrast, EIDD-2801 can be taken in pill form, says Mark Denison, a coronavirus expert and director of the infectious diseases division at Vanderbilt Medical School. Denison partnered with Emory and researchers at the University of North Carolina to test the compound against coronaviruses.
EIDD-2801 has other promising features. Many antivirals work by introducing errors into the viral genome, but, unlike other viruses, coronaviruses can fix some mistakes. In lab experiments, EIDD-2801 "was able to overcome the coronavirus proofreading function," Denison says.
He also notes that while remdesivir and EIDD-2801 both block RNA polymerase, they appear to do it in different ways, meaning they could be complementary.
Unlike remdesivir, EIDD-2801 lacks human safety data. Ridgeback founder and CEO Wendy Holman says she expects the US Food and Drug Administration to give the green light for a Phase I study in COVID-19 infections within "weeks, not months."
////////EIDD 2801, EMORY, CORONA VIRUS,  COVID 19,
CC(C)C(=O)OC[C@H]2O[C@@H](N1C=CC(=NC1=O)NO)[C@H](O)[C@@H]2O