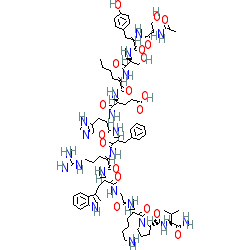 Afamelanotide
RN: 75921-69-6
Molecular Formula, C78-H111-N21-O19, Molecular Weight, 1646.8629
Synonyms
75921-69-6
AFAMELANOTIDE [MI]
AFAMELANOTIDE
AFAMELANOTIDE [INN]
.ALPHA.-MELANOTROPIN (SWINE), 4-L-NORLEUCINE-7-D-PHENYLALANINE-
AC-SER-TYR-SER-NLE-GLU-HIS-D-PHE-ARG-TRP-GLY-LYS-PRO-VAL-NH2
CUV1647
AFAMELANOTIDE [WHO-DD]
AFAMELANOTIDE [USAN]
ACETYL(4-(2S)-2-AMINOHEXANOIC ACID,7-D-PHENYLALANINE)HUMAN MELANOTROPIN ALPHA
CUV-1647
MELANOTAN I
MELANOTAN-1
alpha-Melanotropin, 4-L-norleucine-7-D-phenylalanine-
Prevention of Phototoxicity in Adults with Erythropoietic Protoporphyria (EPP)
アファメラノチド;
Observations suggest that afamelanotide has beneficial effects in patients with erythropoietic protoporphyria, induces epidermal melanin formation.
SYN
Lensing, Cody J. et alFrom Journal of Medicinal Chemistry, 62(1), 144-158; 2019
FDA APPROVED
oct 2019
FDA approves first treatment to increase pain-free light exposure in patients with a rare disorder
http://s2027422842.t.en25.com/e/es?s=2027422842&e=262817&elqTrackId=376c7bc788024cd5a73d955f2e3dcbdc&elq=e8d49092f54446349d8b5eb52a13e7a1&elqaid=9807&elqat=1
The U.S. Food and Drug Administration today granted approval to Scenesse (afamelanotide) to increase pain-free light exposure in adult patients with a history of phototoxic reactions (damage to skin) from erythropoietic protoporphyria.
For patients who are suffering from erythropoietic protoporphyria, a rare disorder, exposure to light may be extremely painful. Prior to today's approval, there were no FDA-approved treatments to help erythropoietic protoporphyria patients increase their light exposure," said Julie Beitz, M.D., director of FDA's Center for Drug Evaluation and Research Office of Drug Evaluation III. "Today's approval is one example of the FDA's ongoing commitment to encourage industry innovation of therapies to treat rare diseases, and work with drug developers to make promising new therapies available to patients as safely and efficiently as possible."
Erythropoietic protoporphyria is a rare disorder caused by mutations leading to impaired activity of ferrochelatase, an enzyme involved in heme production. Heme is an important component in hemoglobin, the oxygen carrying molecule in red blood cells. The decrease in ferrochelatase activity leads to an accumulation of protoporphyrin IX (PPIX) in the body. Light reaching the skin can react with PPIX causing intense skin pain and skin changes, such as redness and thickening. Scenesse (afamelanotide), a melanocortin-1 receptor (MC1-R) agonist, increases the production of eumelanin in the skin independent of exposure to sunlight or artificial light sources.  It is an implant that is administered subcutaneously (inserted under the skin).
The efficacy of Scenesse was established in two parallel group clinical trials with patients with erythropoietic protoporphyria who received Scenesse or placebo form of the implant subcutaneously every two months. The first clinical trial enrolled 93 subjects, of whom 48 received Scenesse, and were followed for 180 days. The primary endpoint was the total number of hours over 180 days spent in direct sunlight between 10 a.m. and 6 p.m. on days with no pain. The median total number of hours over 180 days spent in direct sunlight between 10 a.m. and 6 p.m. on days with no pain was 64 hours for patients receiving Scenesse and 41 hours for patients taking placebo.
The second clinical trial enrolled 74 patients, of whom 38 received Scenesse, and were followed for 270 days. The primary endpoint was the total number of hours over 270 days spent outdoors between 10 am and 3 pm on days with no pain for which "most of the day" was spent in direct sunlight. The analysis did not include sun exposure on days patients reported spending time in a combination of both direct sunlight and shade. The median total number of hours over 270 days spent outdoors between 10 am and 3 pm on days with no pain for which "most of the day" was spent in direct sunlight was six hours for patients receiving Scenesse and 0.75 hours for patients receiving placebo.
Scenesse's most common side effects are implant site reaction, nausea, oropharyngeal (part of the throat just behind the mouth, where the oral cavity starts) pain, cough, fatigue, skin hyperpigmentation, dizziness, melanocytic nevus (moles), respiratory tract infection, somnolence (feeling drowsy), non-acute porphyria (build-up of normally occurring molecules created during heme production) and skin irritation. Scenesse should be administered by a health care professional who is proficient in the subcutaneous implantation procedure and has completed the applicant-provided training. Scenesse may induce skin darkening, and a full body skin examination is recommended for patients twice a year. In addition, patients are encouraged to maintain sun protection measures during treatment with Scenesse to prevent phototoxic reactions related to erythropoietic protoporphyria.
The FDA granted this application Priority Review designation. Scenesse also received Orphan Drug designation, which provides incentives to assist and encourage the development of drugs for rare diseases.The approval of Scenesse was granted to Clinuvel.
For more information:
Afamelanotide (melanotan I, CUV1647; brand name Scenesse)[2] is a synthetic peptide and analogue of α-melanocyte stimulating hormone used to prevent skin damage from the sun in people with erythropoietic protoporphyria in Europe since January 2015. It is administered as an implant that is placed under the skin; the implant lasts for two months.
It is under development in other skin disorders in several jurisdictions. It causes skin to turn darker by causing the skin to make more melanin.
It was discovered at University of Arizona and initially developed there as a sunless tanning agent; the Australian company Clinuvel conducted further clinical trials in that and other indications, and brought the drug to market.
Unlicensed and untested powders sold as "melanotan" are found on the Internet marketed for tanning and other purposes, and multiple regulatory bodies have warned consumers that the peptides may be unsafe and ineffective.
Medical use
Afamelanotide is used in Europe to prevent phototoxicity in adults with erythropoietic protoporphyria (EPP).[1] It is an implant that is injected and placed under the skin; an implant lasts two months.[1]
People who have severe liver disease, liver impairment, or kidney impairment, should not use this drug. Pregnant women should not take it, and women who are active sexually should use contraception while they are taking it. It is not known if afamelanotide is secreted in breast milk.[1]
Adverse effects
Very common (up to 10% of people) adverse effects in people with EPP include headache and nausea. Common (between 1% and 10%) adverse effects include back pain, upper respiratory tract infections, decreased appetite, migraine, dizziness, weakness, fatigue, lethargy, sleepiness, feeling hot, stomach pain, diarrhea, vomiting, flushing and red skin, development of warts, spots, and freckles, itchy skin, and reactions at the injection site. There are many uncommon (less than 1%) adverse effects.[1]
Pharmacology
Afamelanotide is thought to cause skin to darken by binding to the melanocortin 1 receptor which in turn drives melanogenesis.[1]
Afamelanotide has a half-life of 30 minutes. After the implant is injected, most of the drug is released within the first 2 days, with 90% released by the fifth day. By the tenth day no drug is detectable in plasma.[1]
Its metabolites, distribution, metabolism and excretion were not understood as of 2017.[1]
Chemistry
The amino acid sequence is Ac-Ser-Tyr-Ser-Nle-Glu-His-D-Phe-Arg-Trp-Gly-Lys-Pro-Val-NH2, and it is additionally known as [Nle4,D-Phe7]-α-MSH, which is sometimes abbreviated as NDP-MSH or NDP-α-MSH. Afamelanotide is the International Nonproprietary Name.[3]
History
The role of α-MSH in promoting melanin diffusion has been known since the 1960s.[4] In the 1980s, scientists at University of Arizona began attempting to develop α-MSH and analogs as potential sunless tanning agents, and synthesized and tested several analogs, including melanotan-I.[5]
To pursue the tanning agent, melanotan-I was licensed by Competitive Technologies, a technology transfer company operating on behalf of University of Arizona, to an Australian startup called Epitan,[6][5] which changed its name to Clinuvel in 2006.[7]
Early clinical trials showed that the peptide had to be injected about ten times a day due to its short half-life, so the company collaborated with Southern Research in the US to develop a depot formulation that would be injected under the skin, and release the peptide slowly. This was done by 2004.[6]
As of 2010, afamelanotide was in Phase III trials for erythropoietic protoporphyria and polymorphous light eruption, and was in Phase II trials for actinic keratosis and squamous cell carcinoma, and had been trialled in phototoxicity associated with systemic photodynamic therapy and solar urticaria.[8] Clinuvel had also obtained orphan drug status for afamelanotide in the US and the EU by that time.[8]
In May 2010 the Italian Medicines Agency (AIFA, or Agenzia Italiana del Farmaco) approved afamelanotide as a treatment for erythropoietic protoporphyria.[9]
In January 2015 afamelanotide was approved by the EMA in Europe for the treatment of phototoxicity in people with EPP.[1]
Society and culture
Counterfeits
A number of products are sold online and in gyms and beauty salons as "melanotan" or "melanotan-1" which discuss afamelanotide in their marketing.[10][11] [12]
The products are not legal in any jurisdiction and are dangerous.[13][14][15][16]
Starting in 2007 health agencies in various counties began issuing warnings against their use.[17][18][19][20] [21][22]
PAPERS
1 Sawyer T K; Sanfilippo P J; Hruby V J; Engel M H; Heward C B; Burnett J B; Hadley M E
From 

Proceedings of the National Academy of Sciences of the United States of America (1980), 77(10), 5754-8.
2 Journal of Medicinal Chemistry (1982), 25(9), 1022-7.
3 Journal of medicinal chemistry (1984), 27(11), 1406-10.
4 Journal of Medicinal Chemistry (2019), 62(1), 144-158
5 Journal of Medicinal Chemistry (2018), 61(17), 7729-7740.
6 Journal of medicinal chemistry (2017), 60(2), 805-813.
PATENT
US 4457864
References
/////////////fda 2019, Scenesse, afamelanotide,  pain-free light exposure,  erythropoietic protoporphyria, アファメラノチド , афамеланотид , أفاميلانوتيد , 阿法诺肽 , 
Afamelanotide acetate [USAN]
1566590-77-9
MW: 1706.9145