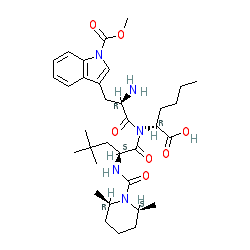 BQ-788
Molecular Formula

C34H50N5NaO7

Average mass

663.780 Da
SP ROT +3.8 ° Conc: 1.032 g/100mL; methanol; Wavlenght: 589.3 nm, Development of an efficient strategy for the synthesis of the ETB receptor antagonist BQ-788 and some related analogues
Peptides (New York, NY, United States) (2005), 26, (8), 1441-1453., https://doi.org/10.1016/j.peptides.2005.03.022
FOR FREE FORM +19.6 °, Conc: 0.998 g/100mL; : N,N-dimethylformamide; 589.3 nm
CAS 173326-37-9 FREE ACID
2,6-Dimethylpiperidinecarbonyl-γ-Methyl-Leu-Nin-(Methoxycarbonyl)-D-Trp-D-Nle
BQ 788 sodium salt
BQ788
D-Norleucine, N-(((2R,6S)-2,6-dimethyl-1-piperidinyl)carbonyl)-4-methyl-L-leucyl-1-(methoxycarbonyl)-D-tryptophyl-, monosodium salt
D-Norleucine, N-((cis-2,6-dimethyl-1-piperidinyl)carbonyl)-4-methyl-L-leucyl-1-(methoxycarbonyl)-D-tryptophyl-, monosodium salt
D-Norleucine, N-[[(2R,6S)-2,6-dimethyl-1-piperidinyl]carbonyl]-4-methyl-L-leucyl-1-(methoxycarbonyl)-D-tryptophyl-, sodium salt (1:1)
MFCD00797882
N-[N-[N-[(2,6-Dimethyl-1-piperidinyl)carbonyl]-4-methyl-L-leucyl]-1-(methoxycarbonyl)-D-tryptophyl]-D-norleucine sodium salt
Sodium N-{[(2R,6S)-2,6-dimethylpiperidin-1-yl]carbonyl}-4-methyl-L-leucyl-N-[(1R)-1-carboxylatopentyl]-1-(methoxycarbonyl)-D-tryptophanamide
2,6-Dimethylpiperidinecarbonyl-γ-Methyl-Leu-Nin-(Methoxycarbonyl)-D-Trp-D-Nle
BQ-788 is a selective ETB antagonist.[1]
presumed to be under license from Banyu , was investigating BQ-788, a selective endothelin receptor B (ETRB) antagonist, for treating metastatic melanoma. By December 2009, the drug was in validation.
Also claimed is their use as an ETBR antagonist and for treating cancers, such as brain cancer, pancreas cancer, colon cancer, breast cancer, ovary cancer, prostate cancer, glioblastoma, solid tumor, melanoma and squamous cell carcinoma. Represent a first filing from ENB Therapeutics Inc and the inventors on these deuterated forms of BQ-788. Melcure SarL ,
SYN
By Brosseau, Jean-Philippe et alFrom Peptides (New York, NY, United States), 26(8), 1441-1453; 2005
CONTD…………
PAPER
https://pubs.acs.org/doi/pdf/10.1021/jo00130a028
N-(cw-2,6-Dimethylpiperidinocarbonyl)-y-methylleucylD-l-(methoxycarbonyl)tryptophanyl-D-norleucine Sodium Salt (1, BQ-788). To a solution of 15 (3.5 g, 5.5 mmol) in methanol (50 mL) was slowly added 5% aqueous NaHCOs (300 mL) over a period of 30 min. The solution was stirred until clarity was achieved (30 min, 23 °C). The solution was diluted with water (200 mL), and the resulting solution was passed through a C18 (60 mL) cartridge preequilbrated in water. BQ-788 (1) was eluted with methanol (2 x 50 mL), concentrated under reduced pressure, resuspended in water (50 mL), and lyophilized to quantitatively yield compound 1 as a white powder:
HPLC £r = 16.4 (gradient A, > 99%);
NMR (400 MHz, DMSO-d6) ó 0.80 (s, 9H), 0.74-0.85 (m, 3H), 1.00 (d, 3H), 1.02 (d, 3H), 1.10-1.25 (m, 6H), 1.30-1.55 (m, 6H), 1.60-1.75 (m, 2H), 2.92 (dd, 1H), 3.12 (dd, 1H), 3.78 (m, 1H), 3.95 (s, 3H), 4.08 (m, 1H), 4.13 (m, 1H), 4.29 (m, 1H), 4.50 (m, 1H), 5.98 (d, 1H), 7.22 (t, 1H), 7.32 (t, 1H), 7.50 (s, 1H), 7.58 (br d, 1H), 7.65 (d, 1H), 8.05 (d, 1H), 8.15 (br d, 1H) ESMS m/z 640.6 (M).
PATENT
WO-2019140324
Novel deuterated analogs of a substituted heterocyclic compound, particularly BQ-788 , processes for their preparation and compositions and combinations comprising them are claimed.
https://patentscope.wipo.int/search/en/detail.jsf?docId=WO2019140324&tab=PCTDESCRIPTION&_cid=P22-JYJK98-13819-1
PAPER
https://www.sciencedirect.com/science/article/abs/pii/S0196978105001415
PAPER
By He, John X.; Cody, Wayne L.; Doherty, Annette M., From Journal of Organic Chemistry (1995), 60(25), 8262-6
Journal of medicinal chemistry (1996), 39(12), 2313-30.
References
///////////BQ-788, BQ 788, BQ788, ETBR antagonist, cancers,  brain cancer, pancreas cancer, colon cancer, breast cancer, ovary cancer, prostate cancer, glioblastoma, solid tumor, melanoma, squamous cell carcinoma, PEPTIDE
CCCC[C@H](C(=O)O)NC(=O)[C@@H](Cc1cn(c2c1cccc2)C(=O)OC)NC(=O)[C@H](CC(C)(C)C)NC(=O)N3[C@@H](CCC[C@@H]3C)C