Abaloparatide
BA058
BIM-44058
UNII-AVK0I6HY2U
BA058; BIM-44058; CAS  247062-33-5
MW 3960.5896, MF C174 H300 N56 O49
абалопаратид
[Russian]
[INN]
أبالوباراتيد
[Arabic]
[INN]
NAME………C2.29-methyl(22-L-glutamic acid(F>E),23-L-leucine(F>L),25-L-glutamic acid(H>E),26-L-lysine(H>K),28-L-leucine(I>L),30-L-lysine(E>K),31-L-leucine(I>L))human parathyroid hormone-related protein-(1-34)-proteinamide
L-Alaninamide, L-alanyl-L-valyl-L-seryl-L-alpha-glutamyl-L-histidyl-L-glutaminyl-L-leucyl-L-leucyl-L-histidyl-L-alpha-aspartyl-L-lysylglycyl-L-lysyl-L-seryl-L-isoleucyl-L-glutaminyl-L-alpha-aspartyl-L-leucyl-L-arginyl-L-arginyl-L-arginyl-L-alpha-glutamyl-L-leucyl-L-leucyl-L-alpha-glutamyl-L-lysyl-L-leucyl-L-leucyl-2-methylalanyl-L-lysyl-L-leucyl-L-histidyl-L-threonyl-
L-Alaninamide, L-alanyl-L-valyl-L-seryl-L-α-glutamyl-L-histidyl-L-glutaminyl-L-leucyl-L-leucyl-L-histidyl-L-α-aspartyl-L-lysylglycyl-L-lysyl-L-seryl-L-isoleucyl-L-glutaminyl-L-α-aspartyl-L-leucyl-L-arginyl-L-arginyl-L-arginyl-L-α-glutamyl-L-leucyl-L-leucyl-L-α-glutamyl-L-lysyl-L-leucyl-L-leucyl-2-methylalanyl-L-lysyl-L-leucyl-L-histidyl-L-threonyl-
Biologic Depiction
IUPAC Condensed
H-Ala-Val-Ser-Glu-His-Gln-Leu-Leu-His-Asp-Lys-Gly-Lys-Ser-Ile-Gln-Asp-Leu-Arg-Arg-Arg-Glu-Leu-Leu-Glu-Lys-Leu-Leu-Aib-Lys-Leu-His-Thr-Ala-NH2
Sequence
AVSEHQLLHDKGKSIQDLRRRELLEKLLXKLHTA
HELM
PEPTIDE1{A.V.S.E.H.Q.L.L.H.D.K.G.K.S.I.Q.D.L.R.R.R.E.L.L.E.K.L.L.[Aib].K.L.H.T.A.[am]}$$$$
IUPAC
(N-(L-alanyl-L-valyl-L-seryl-L-alpha-glutamyl-L-histidyl-L-glutaminyl-L-leucyl-L-leucyl-L-histidyl-L-alpha-aspartyl-L-lysyl-glycyl-L-lysyl-L-seryl-L-isoleucyl-L-glutaminyl-L-alpha-aspartyl-L-leucyl-L-arginyl-L-arginyl-L-arginyl-L-alpha-glutamyl-L-leucyl-L-leucyl-L-alpha-glutamyl-L-lysyl-L-leucyl-L-leucyl)-2-aminoisobutyryl)-L-lysyl-L-leucyl-L-histidyl-L-threonyl-L-alaninamide
FDA 4/28/2017
To treat osteoporosis in postmenopausal women at high risk of fracture or those who have failed other therapies
Drug Trials Snapshot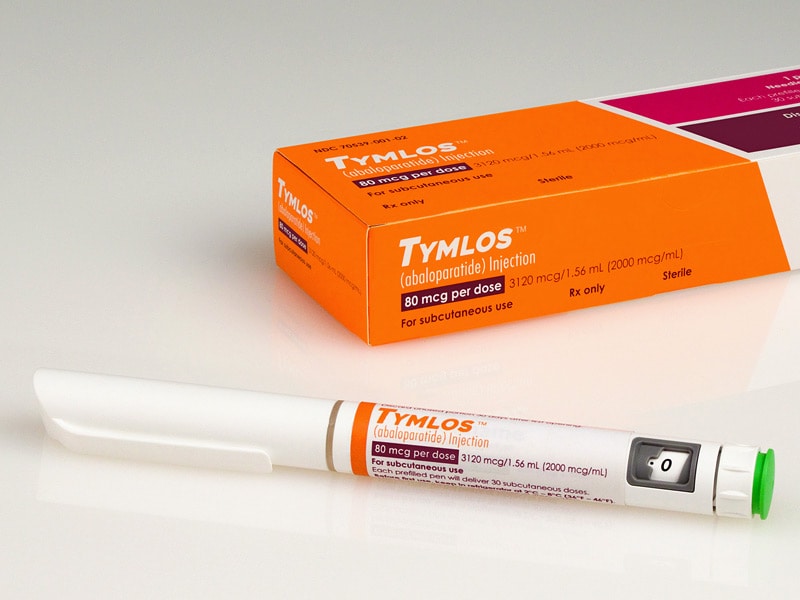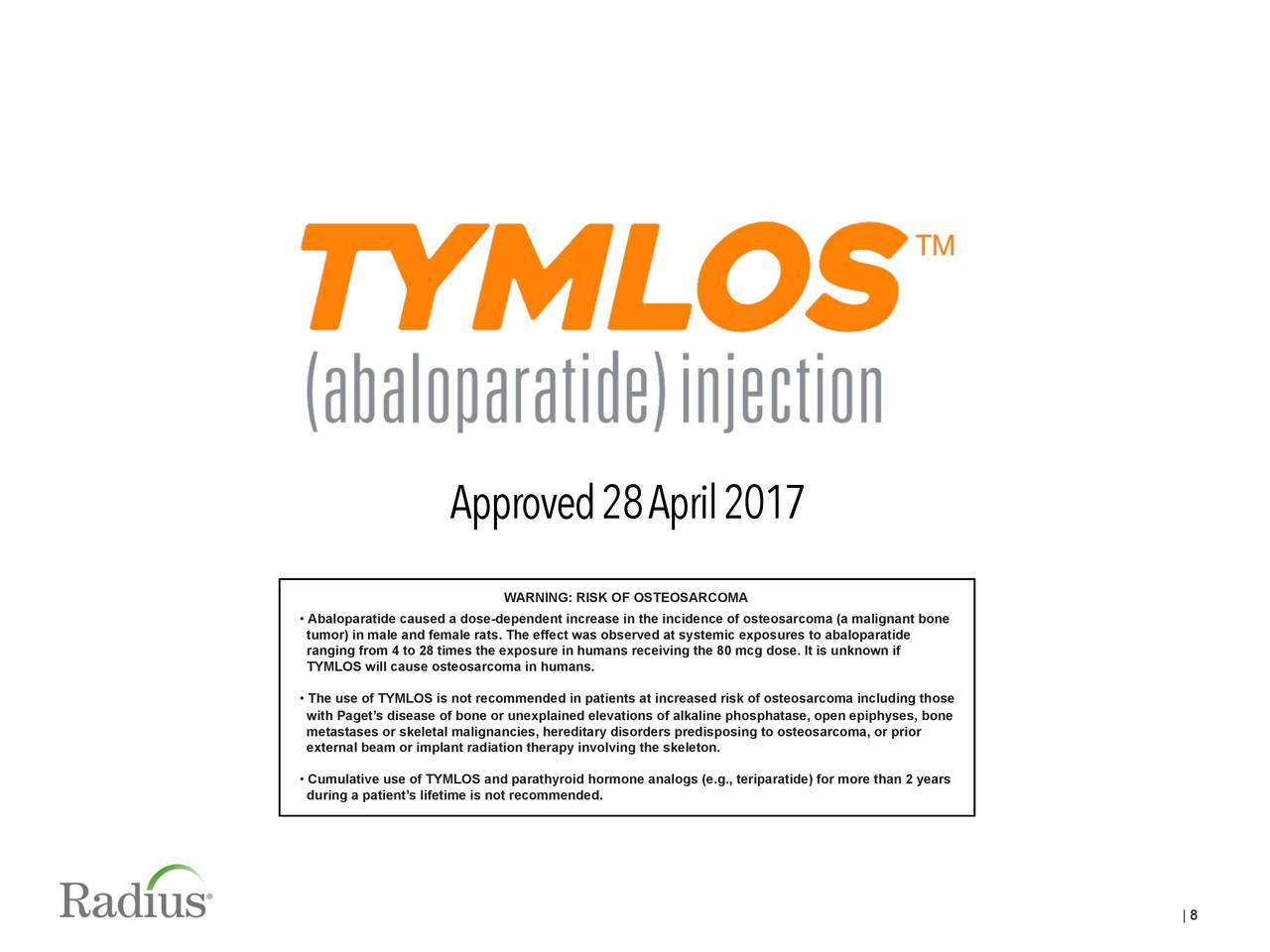 CLINICAL……….https://clinicaltrials.gov/search/intervention=Abaloparatide%20OR%20BA058%20OR%20BIM-44058
BIM-44058 is a 34 amino acid analog of native human PTHrP currently in phase III clinical trials at Radius Health for the treatment of postmenopausal osteoporosis. Radius is also developing a microneedle transdermal patch using a 3M drug delivery system in phase II clinical trials. The drug candidate was originally developed at Biomeasure (a subsidiary of Ipsen), and was subsequently licensed to Radius and Teijin Pharma.
Abaloparatide (brand name Tymlos; formerly BA058) is a parathyroid hormone-related protein (PTHrP) analog drug used to treat osteoporosis. Like the related drug teriparatide, and unlike bisphosphonates, it is an anabolic (i.e., bone growing) agent.[1] A subcutaneous injection formulation of the drug has completed a Phase III trial for osteoporosis.[2] This single study found a decrease in fractures.[3] In 28 April 2017, it was approved by Food and drug administration (FDA) to treat postmenopausal osteoporosis.
Medical use
Abaloparatide is indicated to treat postmenopausal women with osteoporosis who are more susceptible to bone fractures.[2]
Dosage
The dose recommended is 80mcg subcutaneous injection once a day, administered in the periumbilical area using a prefilled pen device containing 30 doses.[4]
Warnings and Precautions
Preclinical studies revealed that abaloparatide systemic daily administration leads to a dose- and time-dependent increase in the incidence of osteosarcoma in rodents.[5] However, whether abaloparatide-SC will cause osteosarcoma in humans is unknown. Thus, the use of abaloparatide is not recommended for individuals at increased risk of osteosarcoma. Additionally, its use is not advised for more than 2 years during a patient's lifetime.[4][6]
Side Effects
The most common side effects reported by more than 2% of clinical trials subjects are hypercalciuria, dizziness, nausea, headache, palpitations, fatigue, upper abdominal pain and vertigo.[4]
Pharmacology
Abaloparatide is 34 amino acid synthetic analog of PTHrP. It has 41% homology to parathyroid hormone (PTH) (1-34) and 76% homology to parathyroid hormone-related protein (PTHrP) (1-34).[7] It works as an anabolic agent for the bone, through selective activation of the parathyroid hormone 1 receptor (PTH1R), a G protein-coupled receptor (GPCR) expressed in the osteoblasts and osteocytes. Abaloparatide preferentially binds the RG conformational state of the PTH1R, which in turn elicits a transient downstream cyclic AMP signaling response towards to a more anabolic signaling pathway.[8][9]
History
Preclinical studies
Abaloropatide was previously known as BA058 and BIM-44058 while under development. The anabolic effects of abaloparatide on bone were demonstrated in two preclinical studies conducted in ovarectomized rats. Both studies showed increased cortical and trabecular bone volume and density, and trabecular microarchitecture improvement in vertebral and nonvertebral bones after short-term[10] and long-term[11] daily subcutaneous injection of abaloparatide compared to controls. Recent studies indicated a dose-dependent increased in bone mass and strength in long-term abalorapatide treatment.[12] However, it was also indicated that prolonged abalorapatide-SC treatment leads to increased incidence of osteosarcoma.[5] To date, there is no yet evidence for increased risk of bone tumors due to prolonged abalorapatide systemic administration in humans. Based on this preclinical data, the FDA does not advised the use of abaloparatide-SC for more than 2 years, or in patients with history of Paget disease and/or other conditions that exacerbates the risk of developing osteosarcoma.[4]
Clinical Trials
Phase II trials were initiated in 2008. A 24-week randomized trial was conducted in postmenopausal women with osteoporosis (n=222) assessing bone mass density (BMD) changes as the primary endpoint.[13] Significant BMD increase at doses of 40 and 80 mcg were found in the lumbar spine, femur and hips of abaloparatide-treated participants compared to placebo. Additionally, abaloparatide showed superior anabolic effects on the hips compared to teriparatide.[14]
In the phase III (2011-2014) Abaloparatide Comparator Trial in Vertebral Endpoints (ACTIVE) trial, a 18-months randomized, multicenter, double-blinded, placebo-controlled study evaluated the long-term efficacy of abaloparatide compared to placebo and teriparatide in 2,463 postmenopausal women (± 69 years old).[2] Women who received daily injections of abaloparatide experienced substantial reduction in the incidence of fractures compared to placebo. Additionally, greater BMD increase at 6, 12 and 18 months in spinal, hips and femoral bones was observed in abaloparatide compared to placebo and teriparatide-treated subjects.[3]
Participants who completed 18 months of abaloparatide or placebo in the ACTIVE study were invited to participate in an extended open-labeled study – ACTIVExtend study (2012-2016).[15] Subjects (n=1139) received additional 2 years of 70 mg of alendronate, Vitamin D (400 to 800 IU), and calcium (500–1000 mg) supplementation daily. Combined abaloparatide and alendronate therapy reduced significantly the incidence of vertebral and nonvertebral fractures.[16]
A clinical trial assessing the effectiveness of abaloparatide in altering spinal bone mineral density (BMD) in male subjects is expected to start in the first quarter of 2018. If successful, Radius Health aims to submit a sNDA to expand the use of abaloparatide-SC to treat men with osteoporosis.[17]
In addition to the injectable form of abaloparatide, a transdermal patch is also in development.[1]
Commercialization
As previously noted, abaloparatide-SC is manufactured by Radius Health, Inc. (Nasdaq: RDUS), a biomedical company based in Waltham, Massachusetts. This company is focused on the development of new therapeutics for osteoporosis, cancer and endocrine diseases. Abaloparatide is the only drug currently marketed by Radius Health. RDUS reported that sales for abaloparatide were $3.5million for the third quarter of 2017.[17] The company announced a net loss of $57.8 million, or $1.31 per share for the third quarter of 2017, compared to $19.2 million for the same quarter of 2016.[18] The net loss most likely reflects the substantial expenses associated with the preparation and launching of abaloparatide into the US market in May 2017.
In July 2017, Radius Health licensed rights to Teijin Limited for abaloparatide-SC manufacture and commercialization in Japan. Teijin is developing abaloparatide-SC under agreement with Ipsen Pharma S.A.S., and is conducting a phase III clinical trial in Japanese patients with osteoporosis.[19]
Regulatory Information
Radius Health filed a Marketing Authorization Application (MAA) in November 2015,[20] which was validated in December, 2015, and still under regulatory assessment by the Committee for Medicinal Products for Human Use (CHMP) of the European Medicines Agency (EMA). As in July 2017, the CHMP issued a second Day-180 List of Outstanding Issues, which Radius is addressing with the CHMP.[17]
In February 2016 a NDA was filed to the FDA, Radius NDA for abaloparatide-SC was accepted in May, 2016.[21] A Prescription Drug User Fee Act (PDUFA) date was initially granted in March 30, 2016, but then extended to June 30, 2017.[22] As previously stated, abaloparatide injection was approved for use in postmenopausal osteoporosis on April 28, 2017.[6]
Intellectual Property
Radius Health currently holds three patents on abaloparatide-SC, with expiration dates from 2027-2028.[23] The patents relate to the drug composition (US 8148333), and the drug delivery methods (US 7803770 B2 and US 8748382-B2).
As previously mentioned, Teijin Limited was granted use of Radius Health intellectual property in July 2017, for the development, manufacture and commercialization of abaloparatide-sc in Japan.
PATENT
http://www.google.com/patents/EP2206725A1?cl=en
A peptide of the formula:

[Glu22, 25, Leu23, 28, 31, Lys26, Aib29, Nle30]hPTHrP(1-34)NH2;

[Glu22, 25, Leu23, 28, 30, 31, Lys26, Aib29]hPTHrP(1-34)NH2; [Glu22, 25,29, Leu23, 28, 30, 31, Lys26]hpTHrP(1-34)NH2; [Glu22, 25, 29, Leu23, 28, 31, Lys26, Nle30]hPTHrP(1-34)NH2; [Ser1, Ile5, Met8, Asn10, Leu11, 23, 28, 31, His14, Cha15, Glu22, 25, Lys26, 30, Aib29]hPTHrP (1-34)NH2; [Cha22, Leu23, 28, 31, Glu25, 29, Lys26, Nle30]hPTHrP(1-34)NH2; [Cha7, 11, 15]hPTHrP(1-34)NH2; [Cha7, 8, 15]hPTHrP(1-34)NH2; [Glu22, Leu23, 28, Aib25, 29, Lys26]hpTHrP(1-34)NH2; [Aib29]hPTHrP(1-34)NH2; [Glu22, 25, Leu23, 28, 31, Lys26, Aib29, 30]hPTHrP(1-34)NH2; [Glu22, 25, Leu23, 28, 31, Lys26, Aib29]hPTHrP(1-34)NH2; [Glu22, 25, Leu23, 28, 31, Aib26, 29, Lys30] hPTHrP(1-34)NH2; or [Leu27, Aib29]hPTH(1-34)NH2; or a pharmaceutically acceptable salt thereof.
PATENT
SEE……http://www.google.com.ar/patents/US8148333?cl=en
PATENT
SEE…………http://www.google.im/patents/US20090227498?cl=pt
EP5026436A
Title not available
US3773919
Oct 8, 1970
Nov 20, 1973
Du Pont
Polylactide-drug mixtures
US4767628
Jun 29, 1987
Aug 30, 1988
Imperial Chemical Industries Plc
Polylactone and acid stable polypeptide
WO1994001460A1

*

Jul 13, 1993
Jan 20, 1994
Syntex Inc
Analogs of pth and pthrp, their synthesis and use for the treatment of osteoporosis
WO1994015587A2
Jan 5, 1994
Jul 21, 1994
Steven A Jackson
Ionic molecular conjugates of biodegradable polyesters and bioactive polypeptides
WO1997002834A1

*

Jul 3, 1996
Jan 30, 1997
Biomeasure Inc
Analogs of parathyroid hormone
WO1997002834A1

*

3 Jul 1996
30 Jan 1997
Biomeasure Inc
Analogs of parathyroid hormone
WO2008063279A2

*

3 Oct 2007
29 May 2008
Radius Health Inc
A stable composition comprising a bone anabolic protein, namely a pthrp analogue, and uses thereof
US5695955

 *

23 May 1995
9 Dec 1997
Syntex (U.S.A.) Inc.
Gene expressing a nucleotide sequence encoding a polypeptide for treating bone disorder
US20030166836

 *

6 Nov 2002
4 Sep 2003
Societe De Conseils De Recherches Et D'application Scientefiques, S.A.S., A France Corporation
Analogs of parathyroid hormone
US20050282749

 *

14 Jan 2005
22 Dec 2005
Henriksen Dennis B
Glucagon-like peptide-1 (GLP-1); immunotherapy; for treatment of obesity
Tymlos
abaloparatide
4/28/2017
To treat osteoporosis in postmenopausal women at high risk of fracture or those who have failed other therapies
Drug Trials Snapshot
/////////FDA 2017, Abaloparatide, TYMLOS, RADIUS HEALTH, PEPTIDE, BA058, BIM 44058; 247062-33-5, абалопаратид , أبالوباراتيد , 巴罗旁肽 , JAPAN 2021, APPROVALS 2021
update
JAPAN 2021 APPROVED C174H300N56O49. (C2H4O2)x
CCC(C)C(C(=O)NC(CCC(=O)N)C(=O)NC(CC(=O)O)C(=O)NC(CC(C)C)C(=O)NC(CCCNC(=N)N)C(=O)NC(CCCNC(=N)N)C(=O)NC(CCCNC(=N)N)C(=O)NC(CCC(=O)O)C(=O)NC(CC(C)C)C(=O)NC(CC(C)C)C(=O)NC(CCC(=O)O)C(=O)NC(CCCCN)C(=O)NC(CC(C)C)C(=O)NC(CC(C)C)C(=O)NC(C)(C)C(=O)NC(CCCCN)C(=O)NC(CC(C)C)C(=O)NC(CC1=CN=CN1)C(=O)NC(C(C)O)C(=O)NC(C)C(=O)N)NC(=O)C(CO)NC(=O)C(CCCCN)NC(=O)CNC(=O)C(CCCCN)NC(=O)C(CC(=O)O)NC(=O)C(CC2=CN=CN2)NC(=O)C(CC(C)C)NC(=O)C(CC(C)C)NC(=O)C(CCC(=O)N)NC(=O)C(CC3=CN=CN3)NC(=O)C(CCC(=O)O)NC(=O)C(CO)NC(=O)C(C(C)C)NC(=O)C(C)N