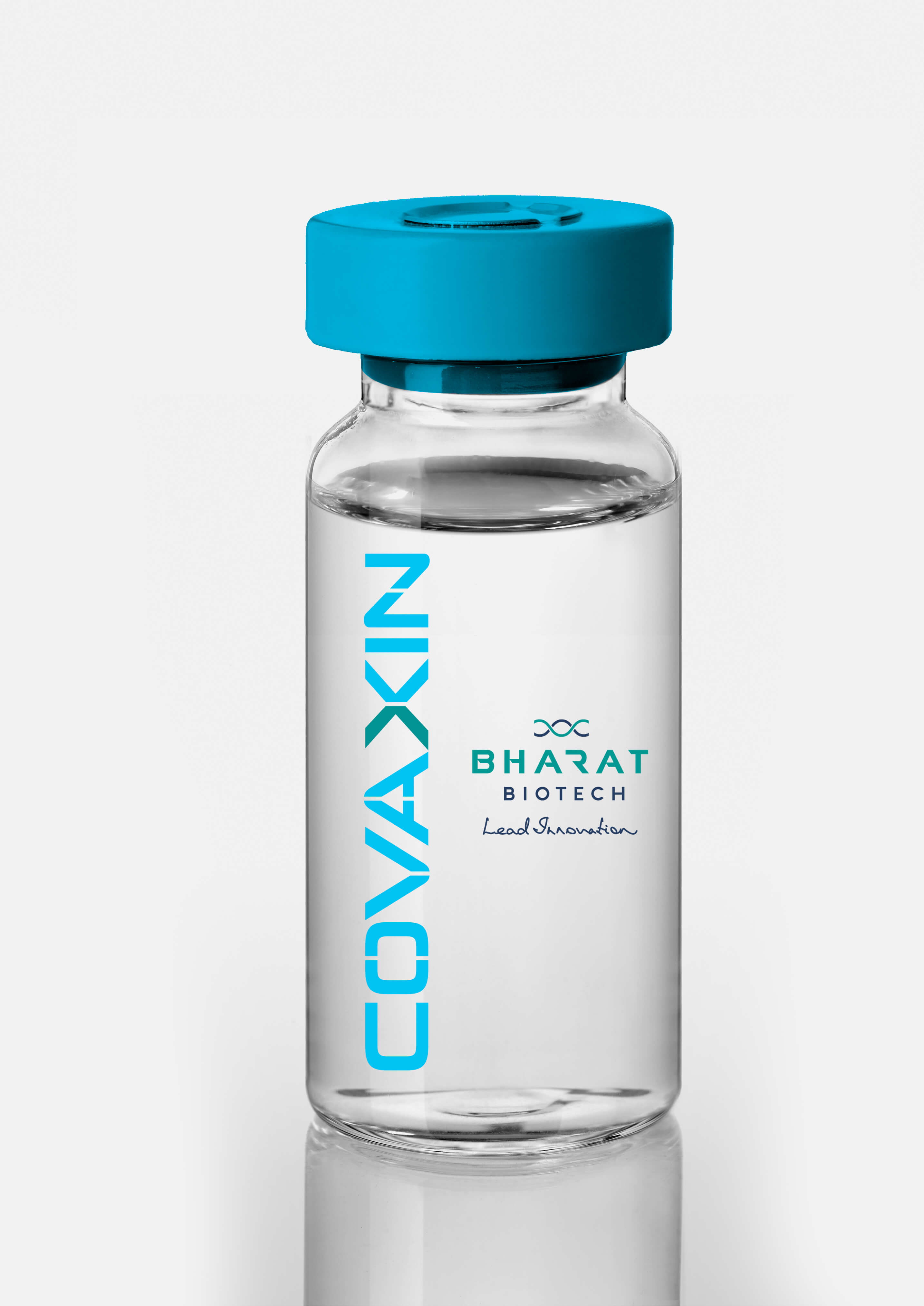 COVAXIN
CAS 2501889-19-4
Whole-Virion Inactivated SARS-CoV-2 Vaccine
UNII76JZE5DSN6
BBV 152
A whole virion inactivated COVID-19 vaccine candidate derived from SARS-CoV-2 strain NIV-2020-770
REF
medRxiv (2020), 1-21.
bioRxiv (2020), 1-32.
BBV152 (also known as Covaxin) is an inactivated virus-based COVID-19 vaccine being developed by Bharat Biotech in collaboration with the Indian Council of Medical Research.
BBV152 is a vaccine candidate created by the Indian Council of Medical Research (ICMR). The candidate, a whole virion inactivated SARS-CoV-2 vaccine, was developed from a well-known SARS-CoV-2 strain and a vero cell platform (CCL-81) with adjuncts of either aluminum hydroxide gel (Algel) or a novel TLR7/8 agonist adsorbed gel. The components of the vaccine include BBV152A, BBV152B, and BBV152C. Animal studies in mice, rats, and rabbits reported BBV152 immunogenicity at two separate antigen concentrations with both types of adjuvants. The formulation with the TLR7/8 adjuvant specifically induced significant Th1 biased antibody responses and increased SARS-CoV-2 lymphocyte responses. Thus, as of July 2020, BBV152 is in Phase 1/2 clinical trials assessing safety and immunogenicity in humans (NCT04471519).
Clinical research
Phase I and II trials
In May 2020, Indian Council of Medical Research's (ICMR's) National Institute of Virology approved and provided the virus strains for developing a fully indigenous COVID-19 vaccine.[1][2] In June 2020, the company got permission to conduct Phase I and Phase II human trials of a developmental COVID-19 vaccine named Covaxin, from the Drugs Controller General of India (DCGI), Government of India.[3] A total of 12 sites were selected by the Indian Council for Medical Research for Phase I and II randomised, double-blind and placebo-controlled clinical trials of vaccine candidate.[4][5][6]
In December 2020, the company announced the report for Phase I trials and presented the results through medRxiv preprint;[7][8] the report was later published in the The Lancet.[9]
On March 8, 2021, Phase II results were published in The Lancet. The study showed that Phase II trials had a higher immune response and induced T-cell response due to the difference in dosing regime from Phase I. The doses in Phase II were given at 4 weeks interval as opposed to 2 weeks in Phase I. Neutralization response of the vaccine were found significantly higher in Phase II.[10]
Phase III trials[edit]
In November 2020, Covaxin received the approval to conduct Phase III human trials[11] after completion of Phase I and II.[12] The trial involves a randomised, double-blinded, placebo-controlled study among volunteers of age group 18 and above and started on 25 November.[13] The Phase III trials involved around 26,000 volunteers from across India.[14] The phase III trials covered a total of 22 sites consisting several states in the country, including Delhi, Karnataka and West Bengal.[15] Refusal rate for Phase III trials was much higher than that for Phase I and Phase II. As a result only 13,000 volunteers had been recruited by 22 December with the number increasing to 23,000 by 5 January. [16][17]
As on March 2021, the stated interim efficacy rate for phase III trial is 81%.[18][10]
B.1.1.7 (United Kingdom) variant
In December 2020, a new SARS‑CoV‑2 variant, B.1.1.7, was identified in the UK.[19] A study on this variant was carried and preliminary results presented in biorxiv have shown Covaxin to be effective in neutralizing this strain.[20]
Manufacturing
The vaccine candidate is produced with Bharat Biotech's in-house vero cell manufacturing platform[21] that has the capacity to deliver about 300 million doses.[22] The company is in the process of setting up a second plant at its Genome Valley facility in Hyderabad to make Covaxin. The firm is in talks with other state governments like Odisha[23] for another site in the country to make the vaccine. Beside this, they are also exploring global tie-ups for Covaxin manufacturing.[24]
In December 2020, Ocugen Inc entered a partnership with Bharat Biotech to co-develop Covaxin for the U.S. market.[25][26] In January 2021, Precisa Med entered an agreement with Bharat Biotech to supply Covaxin in Brazil[27]
Emergency use authorisation
See also: COVID-19 vaccine § Trial and authorization status
Bharat Biotech has applied to the Drugs Controller General of India (DCGI), Government of India seeking an emergency use authorisation (EUA).[31] It was the third firm after Serum Institute of India and Pfizer to apply for emergency use approval.[32]
On 2 January 2021, the Central Drugs Standard Control Organisation (CDSCO) recommended permission for EUA,[33] which was granted on 3 January.[34] The emergency approval was given before Phase III trial data was published. This was criticized in some sections of the media.[35][36]
The vaccine was also approved for Emergency Use in Iran and Zimbabwe.[30][29]
References
External links
COVAXIN®, India's indigenous COVID-19 vaccine by Bharat Biotech is developed in collaboration with the Indian Council of Medical Research (ICMR) – National Institute of Virology (NIV).
The indigenous, inactivated vaccine is developed and manufactured in Bharat Biotech's BSL-3 (Bio-Safety Level 3) high containment facility.
The vaccine is developed using Whole-Virion Inactivated Vero Cell derived platform technology. Inactivated vaccines do not replicate and are therefore unlikely to revert and cause pathological effects. They contain dead virus, incapable of infecting people but still able to instruct the immune system to mount a defensive reaction against an infection.
Why develop Inactivated Vaccine? Conventionally, inactivated vaccines have been around for decades. Numerous vaccines for diseases such as Seasonal Influenza, Polio, Pertussis, Rabies, and Japanese Encephalitis use the same technology to develop inactivated vaccines with a safe track record of >300 million doses of supplies to date. It is the well-established, and time-tested platform in the world of vaccine technology.
Key Attributes:
COVAXIN® is included along with immune-potentiators, also known as vaccine adjuvants, which are added to the vaccine to increase and boost its immunogenicity.
It is a 2-dose vaccination regimen given 28 days apart.
It is a vaccine with no sub-zero storage, no reconstitution requirement, and ready to use liquid presentation in multi-dose vials, stable at 2-8oC.
Pre-clinical studies: Demonstrated strong immunogenicity and protective efficacy in animal challenge studies conducted in hamsters & non-human primates. For more information about our animal study, please visit our blog page on Non-Human Primates.
The vaccine received DCGI approval for Phase I & II Human Clinical Trials in July, 2020.
A total of 375 subjects have been enrolled in the Phase 1 study and generated excellent safety data without any reactogenicity. Vaccine-induced neutralizing antibody titers were observed with two divergent SARS-CoV-2 strains. Percentage of all the side-effects combined was only 15% in vaccine recipients. For further information, visit our blog page on phase 1 study.
In Phase 2 study, 380 participants of 12-65 years were enrolled. COVAXIN® led to tolerable safety outcomes and enhanced humoral and cell-mediated immune responses. Know more about our phase 2 study.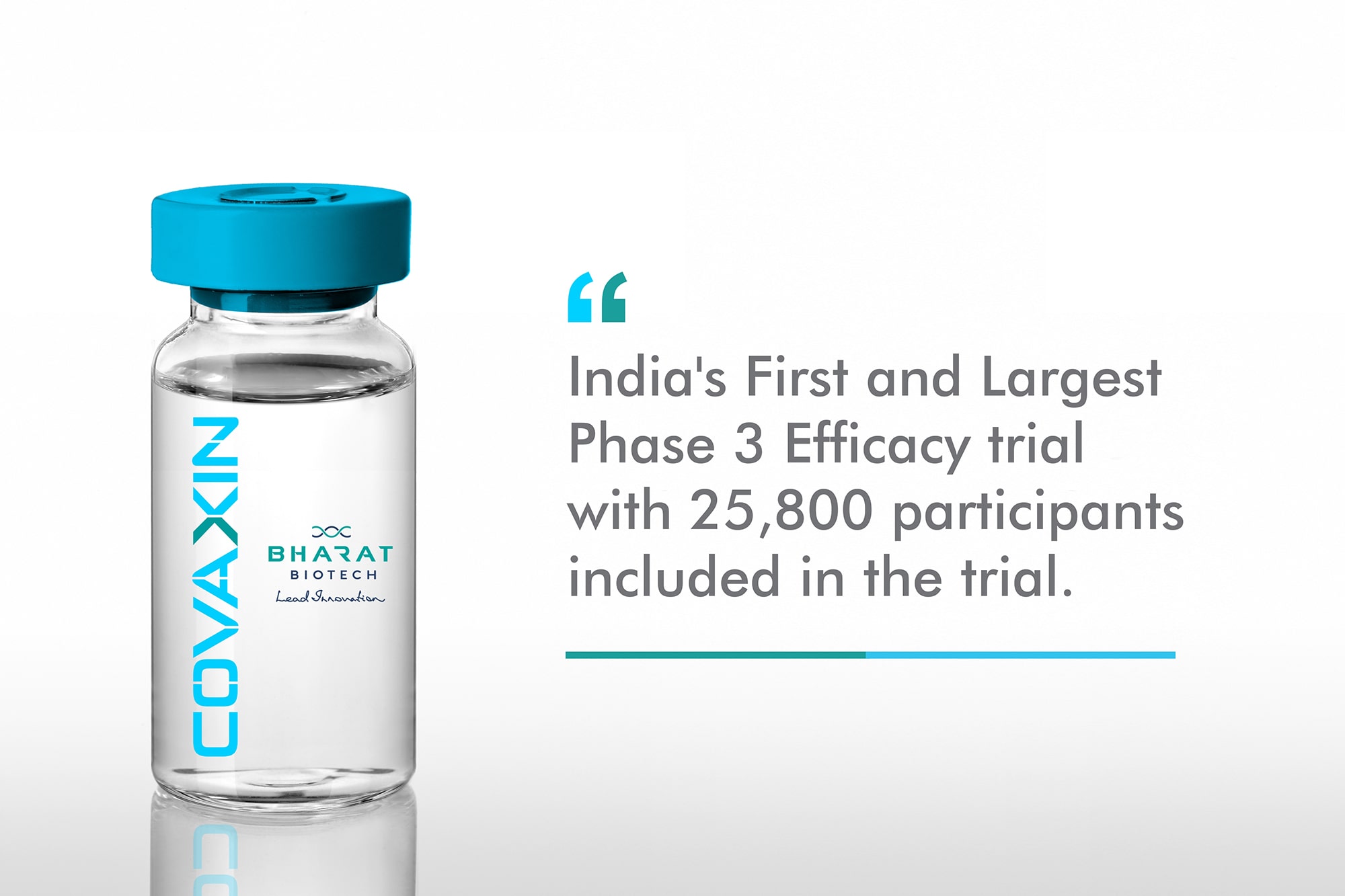 A total of 25,800 subjects have been enrolled and randomized in a 1:1 ratio to receive the vaccine and control in a Event-Driven, randomized, double-blind, placebo-controlled, multicentre phase 3 study.
The purpose of this study is to evaluate the efficacy, safety, and immunogenicity of COVAXIN® in volunteers aged ≥18 years.
Of the 25,800 participants, >2400 volunteers were above 60 years of age and >4500 with comorbid conditions.
COVAXIN® demonstrated 81% interim efficacy in preventing COVID-19 in those without prior infection after the second dose.
COVAXIN® effective against UK variant strain:
Analysis from the National Institute of Virology indicates that vaccine-induced antibodies can neutralize the UK variant strains and other heterologous strains.
Global Acceptance of COVAXIN®:
Bharat biotech has been approached by several countries across the world for the procurement of COVAXIN®.
Clinical trials in other countries to commence soon.
Supplies from government to government in the following countries to take place: Mongolia, Myanmar, Sri Lanka, Philippines, Bahrain, Oman, Maldives and Mauritius.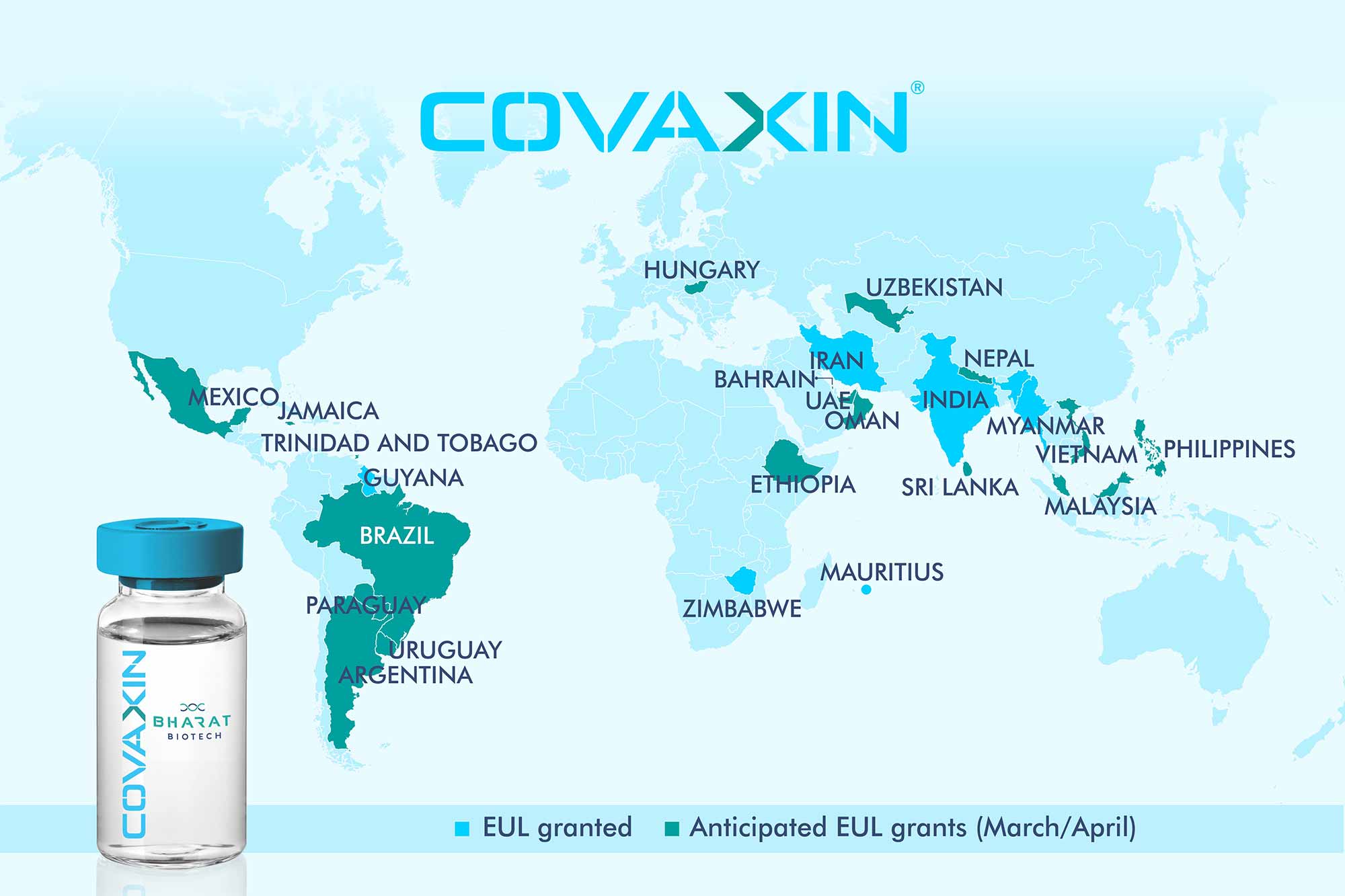 ////////COVAXIN, BBV152, BBV 152, INDIA 2021, APPROVALS 2021, COVID 19, CORONA VIRUS, bharat biotech
#COVAXIN, #BBV152, #BBV 152, #INDIA 2021, #APPROVALS 2021, #COVID 19, #CORONA VIRUS, #bharat biotech