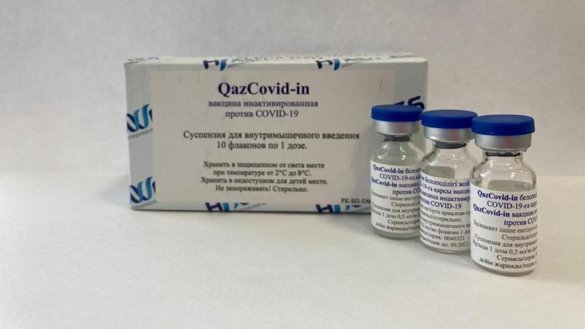 QazCovid-in
QazCovid-in
Vaccine
Phase I/II/IIIThe QazCovid-in vaccine is an inactivated vaccine. Inactive viral vaccines are created by propagating viruses in cell culture (such as in Vero cells) and/or by inactivation using a chemical reagent (such as beta-propiolactone or formaldehyde). Upon vaccination, this allows the body to generate a diverse immune response against numerous viral antigens while having no threat of actually being infected because the virus is inactive.NEWS FEED December 31, 2020The Republic of Khazakstan's QazCovid-in COVID19 vaccine enters phase 3 with an expected 3000 participants. August 28, 2020QazCovid-in, an inactive viral vaccine manufactured by Research Institute for Biological Safety Problems Republic of Kazakhstan enters Phase 1/2 clinical trials.ORGANIZATIONSResearch Institute for Biological Safety Problems, National Scientific Center for Phthisiopulmonology of the Republic of Kazakhstan, City polyclinic No. 4 of the UZO of Almaty, Clinic of the International Institute of Postgraduate Education, City Multidisciplinary Hospital of the Health Department of the Akimat of Zhambyl RegionCOUNTRIES INVOLVED TRIAL PARTICIPANTS
Phase 1: 44
Phase 2: 200
Phase 3: 3000CLINICAL TRIAL NUMBERNCT04530357NCT04691908
QazCovid-in, also known as QazVac, is an inactivated virus vaccine developed by the Research Institute for Biological Safety Problems in Kazakhstan.[499]
Kazakhstan[499]
https://fortune.com/2021/04/26/new-covid-19-vaccine-kazakhstan-qazvac/
A new vaccine on the scene: Kazakhstan begins rollout of homegrown QazVac
The world's approved COVID-19 vaccines have all come from large economies such as the U.S., China, the U.K., Russia, and India. Until today.
On Monday, Kazakhstan started rolling out its homegrown vaccine, now known as QazVac. Before a rebranding at the end of last month, it was called QazCovid-in, but the central Asian country's government decided that name might be a turnoff for the public.
The vaccine was developed by Kazakhstan's Research Institute for Biological Safety Problems, which claimed 96% efficacy in the second stage of clinical trials. The final phase is still ongoing, with a conclusion expected in July, but Kazakh health authorities decided it was fine to begin the rollout as long as the 3,000-participant Phase III trial was at least halfway finished.
This isn't an adenovirus vector vaccine like those from Johnson & Johnson and AstraZeneca—though it does share their relatively mild refrigeration requirements—nor is it an mRNA-based jab like the BioNTech/Pfizer and Moderna vaccines. Instead, it uses an inactivated form of the SARS-CoV-2 virus itself, much like China's CoronaVac and India's Covaxin, which are both in use, and Valneva's vaccine, which isn't there yet. The QazVac regimen comprises two doses, to be administered three weeks apart.
'Turn the tide'
Health Minister Alexei Tsoi was one of the first QazVac recipients on Monday morning. Tsoi was at the start of this month on the receiving end of a public dressing-down by President Kassym-Jomart Tokayev, who was furious about the sluggish start to the country's inoculation campaign amid rising case numbers.
"You must turn the tide, otherwise a personnel decision that is going to be very disappointing for you will follow," Tokayev told Tsoi. The vaccination campaign, which had previously focused on frontline workers, then reportedly sprang to life for others too in the oil-rich country.
Thus far, Kazakhstan's vaccination drive has been powered by Russia's Sputnik V, which has been produced locally for the past couple of months (Tokayev opted for the Russian shot, rather than waiting for QazVac). By late last week, just over 800,000 people had received their first dose. Kazakhstan has a population of 18.8 million people; the government plans to inoculate 2 million each month.
Tokayev tweeted Friday that domestic production would provide vaccine availability to all citizens. If so, that would be a remarkable turnaround—Almaty health officials said five weeks ago that the largest Kazakh city had run out of vaccines, and mass vaccination would not be realistic in the near future.
QazVac may have given Tokayev the opportunity to praise Kazakhstan's scientific prowess, but production remains a bottleneck. The first batch to be distributed runs to only 50,000 doses, and the next tranche, to be produced in May, will be of the same volume.
Tsoi said Monday that the Kazakh government was talking to Turkish manufacturers about increasing production capacity.
QazCovid-in, commercially known as QazVac,[1][2] is a COVID-19 vaccine developed by the Research Institute for Biological Safety Problems in Kazakhstan.[3][4][5] QazCoVac-P is a second COVID-19 vaccine developed by the Kazakh Biosafety Research Institute and in clinical trials.[6]
Clinical research
QazVac is currently in Phase 3 (III) of the Clinical Trial, which is expected to be fully completed by 9 July 2021.[7][8] It is unclear when the first preliminary results will be published.[9][10]
The administration of the vaccine for the general population began at the end of April 2021.[11] The Research Institute Kunsulu Zakarya's Director General's justification is that the trial is almost 50% completed and "people who have received [the] vaccine feel well; there have been no side-effects and the effectiveness of the vaccine is high".[12]
Production
The vaccine was first manufactured by Kazakhstan's Research Institute of Biological Safety Problems. Production capacity has been capped at 50,000 doses per month.
Beginning in June 2021, the vaccine is slated[13] to be packaged in large bulk to be bottled in Turkey by a major Turkish company.[14][15] This will allow for a production capacity of 500,000-600,000 doses per month.[16] The contract is still being negotiated,[17] despite earlier claims that suggesting the deal had already been finalized.[18][19]
Vaccine innoculation
The first batch of 50,000 doses was delivered on 26 April 2021, and vaccination began shortly after.[20] In June 2021, the capacity will increase to 100,000 doses per month, regardless of the contract for bottling in Turkey.[21]
Authorization
Full authorization Emergency authorization
See also: List of COVID-19 vaccine authorizations § QazCovid-in
Characteristics
The vaccine can be stored at standard refrigeration temperatures (2°C-8°C) and is a two-dose régime with the doses administered twenty-one days apart.[22]
References
External links
The QazCovid-in vaccine, an inactivated vaccine, was developed and tested in the Kazakh Research Institute for Biological Safety Problems1. It demonstrated high efficacy, safety, and immunogenicity at 96% in initial Phase I and II trials (NCT04530357), and will now be undergoing upcoming Phase III trials2,3.
The Astana Times: Kazakhstan Begins Vaccinating 3,000 Volunteers With Self-Made QazCovid-in [Link]
The Lancet: COVID-19 response in central Asia [Link]
Economic Research Institute: QazCovid-in [Link]
///////////QazVac, COVID 19, vaccine, QazCovid-in, kazakhastan, SARS-CoV-2, corona virus