Haloprogin
Haloprogin is a topical antifungal agent. Its structure does not contain any of the functional groups typically exploited in hydrogen bond based co-crystal design. On the other hand, its 1-iodoalkyne moiety is nicely tailored to a crystal engineering strategy based on halogen bonding. Here we describe the formation of three polymorphs of haloprogin and of three co-crystals that this active pharmaceutical ingredient forms with both neutral and ionic co-crystal formers. The halogen bond plays a major role in all of the six structures and the interaction is thus confirmed to be a valuable tool which may complement the hydrogen bond when polymorphs and co-crystals of active pharmaceutical ingredients are pursued.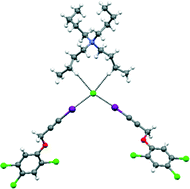 Graphical abstract: Polymorphs and co-crystals of haloprogin: an antifungal agent
http://pubs.rsc.org/en/Content/ArticleLanding/2014/CE/C4CE00367E?utm_medium=email&utm_campaign=pub-CE-vol-16-issue-26&utm_source=toc-alert#!divAbstract
Polymorphs and co-crystals of haloprogin: an antifungal agent
Michele Baldrighi,a Davide Bartesaghi,a Gabriella Cavallo,a Michele R. Chierotti,b Roberto Gobetto,b Pierangelo Metrangolo,*a Tullio Pilati,a Giuseppe Resnati*a and Giancarlo Terraneo*a
*Corresponding authors
aNFMLab-Laboratory of Nanostructured Fluorinated Materials (NFMLab), Department of Chemistry, Materials, and Chemical Engineering "Giulio Natta", Politecnico di Milano, Via L. Mancinelli 7, 20131 Milan, Italy
E-mail: pierangelo.metrangolo@polimi.it, giuseppe.resnati@polimi.it, giancarlo.terraneo@polimi.it
bDepartment of Chemistry, Università di Torino, Via P. Giuria 7, 10125 Torino, Italy
CrystEngComm, 2014,16, 5897-5904
DOI: 10.1039/C4CE00367E
EXTRA INFO
Haloprogin is an antifungal drug used to treat athlete's foot and other fungal infections. It is marketed in creams under the trade names Halotex, Mycanden, Mycilan, and Polik.
Action
Haloprogin was previously used in 1% topical creams as an antifungal agent. It was marketed over the counter primarily to treat tinea infections of the skin. The mechanism of action is unknown.[1]
Haloprogin had a high incidence of side effects including: irritation, burning, vesiculation (blisters), scaling, and itching. It has since been discontinued due to the emergence of more modern antifungals with fewer side effects.[2]
Haloprogin is used as a topical ointment or cream in the treatment of Tinea infections. Tinea infections are superficial fungal infections caused by three species of fungi collectively known as dermatophytes (Trichophyton, Microsporum and Epidermophyton). Commonly these infections are named for the body part affected, including tinea corporis (general skin), tinea cruris (groin), and tinea pedis (feet). Haloprogin is a halogenated phenolic ether administered topically for dermotaphytic infections. The mechanism of action is unknown, but it is thought to be via inhibition of oxygen uptake and disruption of yeast membrane structure and function. Haloprogin is no longer available in the United States and has been discontinued.
U.S. Patent 3,322,813.
References
"Haloprogin". Drugs@FDA. Food and Drug Administration

. Retrieved 2007-02-17

.
"Haloprogin". DrugBank. University of Alberta. Nov 6, 2006

. Retrieved 2007-02-17

.