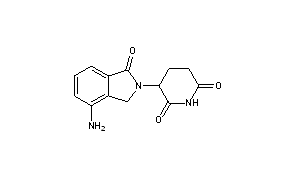 LENALIDOMIDE
Molecular Formula

C13H13N3O3

Average mass

259.261 Da
леналидомид , ليناليدوميد , 来那度胺 , 
1-Oxo-4-amino-2-(2,6-dioxopiperidin-3-yl)isoindole
2,6-Piperidinedione, 3-(4-amino-1,3-dihydro-1-oxo-2H-isoindol-2-yl)-
3-(4-amino-1,3-dihydro-1-oxo-2H-isoindol-2-yl)-2,6-piperidinedione
3-(4-Amino-1-oxo-1,3-dihydro-2H-isoindol-2-yl)-2,6-piperidinedione
3-(4-Amino-1-oxo-1,3-dihydro-2H-isoindol-2-yl)piperidin-2,6-dion
3-(4-amino-1-oxo-1,3-dihydro-2H-isoindol-2-yl)piperidine-2,6-dione
3-(4-amino-1-oxoisoindolin-2-yl)piperidine-2,6-dione
3-(7-amino-3-oxo-1h-isoindol-2-yl)piperidine-2,6-dione
8505
E3 Ligase ligand
IMiD3
CAS Registry Number: 191732-72-6
CAS Name: 3-(4-Amino-1,3-dihydro-1-oxo-2H-isoindol-2-yl)-2,6-piperidinedione
Additional Names: 1-oxo-2-(2,6-dioxopiperidin-3-yl)-4-aminoisoindoline
Manufacturers' Codes: CC-5013
Trademarks: Revimid (Celgene); Revlimid (Celgene)
Molecular Formula: C13H13N3O3
Molecular Weight: 259.26
Percent Composition: C 60.22%, H 5.05%, N 16.21%, O 18.51%
Literature References: Immunomodulatory drug; analog of thalidomide, q.v. Prepn: G. W. Muller et al., US 5635517 (1997 to Celgene); and in vitro TNF-a inhibition: eidem, Bioorg. Med. Chem. Lett. 9, 1625 (1999). LC-MS determn in plasma: T. M. Tohnya et al., J. Chromatogr. B 811, 135 (2004). Clinical evaluation in multiple myeloma: P. G. Richardson et al., Blood 100, 3063 (2002); in myelodysplastic syndromes: A. List et al., N. Engl. J. Med. 352, 549 (2005). Review of development, pharmacology and therapeutic potential: J. B. Bartlett et al., Nature Rev. 4, 314-322 (2004); C. S. Mitsiades, N. Mitsiades, Curr. Opin. Invest. Drugs 5, 635-647 (2004).
Therap-Cat: Immunomodulator.
Keywords: Immunomodulator.
191732-72-6
SYP-1512
LENALIDOMIDE [VANDF]
LENALIDOMIDE [WHO-DD]
LENALIDOMIDE [EMA EPAR]
LENALIDOMIDE [MI]
LENALIDOMIDE [MART.]
LENALIDOMIDE [ORANGE BOOK]
LENALIDOMIDE [USAN]
LENALIDOMIDE [INN]
CDC-501
REVLIMID
LENALIDOMIDE
3-(4-AMINO-1-OXO-1,3-DIHYDRO-2H-ISOINDOL-2-YL)PIPERIDINE-2,6-DIONE
2,6-PIPERIDINEDIONE, 3-(4-AMINO-1,3-DIHYDRO-1-OXO-2H-ISOINDOL-2-YL)-
CC-5013
Lenalidomide (trade name Revlimid) is a derivative of thalidomide approved in the United States in 2005.[1]
It was initially intended as a treatment for multiple myeloma, for which thalidomide is an accepted therapeutic treatment. Lenalidomide has also shown efficacy in the class of hematological disorders known as myelodysplastic syndromes (MDS). Along with several other drugs developed in recent years, lenalidomide has significantly improved overall survival in myeloma (which formerly carried a poor prognosis), although toxicity remains an issue for users.[2] It costs $163,381 per year for the average patient.[3]
It is on the World Health Organization's List of Essential Medicines, the safest and most effective medicines needed in a health system.[4]
Medical uses
Multiple myeloma
Multiple myeloma is a cancer of the blood, characterized by accumulation of a plasma cell clone in the bone marrow.[5] Lenalidomide is one of the novel drug agents used to treat multiple myeloma. It is a more potent molecular analog of thalidomide, which inhibits tumor angiogenesis, tumor secreted cytokines and tumor proliferation through the induction of apoptosis.[6][7][8]
Compared to placebo, lenalidomide is effective at inducing a complete or "very good partial" response as well as improving progression-free survival. Adverse events more common in people receiving lenalidomide for myeloma were neutropenia (a decrease in the white blood cell count), deep vein thrombosis, infections, and an increased risk of other hematological malignancies.[9] The risk of second primary hematological malignancies does not outweigh the benefit of using lenalidomide in relapsed or refractory multiple myeloma.[10] It may be more difficult to mobilize stem cells for autograft in people who have received lenalidomide.[6]
On 29 June 2006, lenalidomide received U.S. Food and Drug Administration (FDA) clearance for use in combination with dexamethasone in patients with multiple myeloma who have received at least one prior therapy.[11] On 22 February 2017, the FDA approved lenalidomide as standalone maintenance therapy (without dexamethasone) for patients with multiple myeloma following autologous stem cell transplant.[12]
On 23 April 2009, The National Institute for Health and Clinical Excellence (NICE) issued a Final Appraisal Determination (FAD) approving lenalidomide, in combination with dexamethasone, as an option to treat patients with multiple myeloma who have received two or more prior therapies in England and Wales.[13]
On 5 June 2013, the FDA designated lenalidomide as a specialty drug requiring a specialty pharmacy distribution for "use in mantle cell lymphoma (MCL) in patients whose disease has relapsed or progressed after two prior therapies, one of which included bortezomib." Revlimid is only available through a specialty pharmacy, "a restricted distribution program in conjunction with a risk evaluation and mitigation strategy (REMS) due to potential for embryo-fetal risk."[14]
Myelodysplastic syndromes
With myelodysplastic syndromes (MDS), the best results of lenalidomide were obtained in patients with the Chromosome 5q deletion syndrome (5q- syndrome).[15] The syndrome results from deletions in human chromosome 5 that remove three adjacent genes, granulocyte-macrophage colony-stimulating factor, Platelet-derived growth factor receptor B, and Colony stimulating factor 1 receptor.[16][17]
It was approved by the FDA on 27 December 2005, for patients with low or intermediate-1 risk MDS with 5q- with or without additional cytogenetic abnormalities. A completed Phase II, multi-centre, single-arm, open-label study evaluated the efficacy and safety of Revlimid monotherapy treatment for achieving haematopoietic improvement in red blood cell (RBC) transfusion dependent subjects with low- or intermediate-1-risk MDS associated with a deletion 5q cytogenetic abnormality.
63.8% of subjects had achieved RBC-transfusion independence accompanied by a median increase of 5.8 g/dL in blood Hgb concentration from baseline to the maximum value during the response period. Major cytogenetic responses were observed in 44.2% and minor cytogenetic responses were observed in 24.2% of the evaluable subjects. Improvements in bone marrow morphology were also observed. The results of this study demonstrate the efficacy of Revlimid for the treatment of subjects with Low- or Intermediate-1-risk MDS and an associated del 5 cytogenetic abnormality.[15][18][19]
Lenalidomide was approved on 17 June 2013 by the European Medicines Agency for use in low- or intermediate-1-risk myelodysplastic syndromes (MDS) patients who have the deletion 5q cytogenetic abnormality and no other cytogenetic abnormalities, are dependent on red blood cell transfusions, and for whom other treatment options have been found to be insufficient or inadequate.[20]
Mantle cell lymphoma
Lenalidomide is approved by FDA for mantle cell lymphoma in patients whose disease has relapsed or progressed after at least two prior therapies.[1] One of these previous therapies must have included bortezomib.
Other cancers
Lenalidomide is undergoing clinical trial as a treatment for Hodgkin's lymphoma,[21] as well as non-Hodgkin's lymphoma, chronic lymphocytic leukemia and solid tumor cancers, such as carcinoma of the pancreas.[22] One Phase 3 clinical trial being conducted by Celgene in elderly patients with B-cell chronic lymphocytic leukemia was halted in July 2013, when a disproportionate number of cancer deaths were observed during treatment with lenalidomide versus patients treated with chlorambucil.[23]
Adverse effects
In addition to embryo-fetal toxicity, lenalidomide also carries Black Box Warnings for hematologic toxicity (including significant neutropenia and thrombocytopenia) and venous/arterial thromboembolisms.[1]
Serious potential side effects are thrombosis, pulmonary embolus, and hepatotoxicity, as well as bone marrow toxicity resulting in neutropenia and thrombocytopenia. Myelosuppression is the major dose-limiting toxicity, which is contrary to experience with thalidomide.[24] Lenalidomide may also be associated with adverse effects including second primary malignancy, severe cutaneous reactions, hypersensitivity reactions, tumor lysis syndrome, tumor flare reaction, hypothyroidism, and hyperthyroidism. [1]
Teratogenicity
Lenalidomide is related to thalidomide which is known to be teratogenic. Tests in monkeys have suggested lenalidomide is also teratogenic.[25] It therefore has the pregnancy category X and cannot be prescribed for women who are pregnant or who may become pregnant during therapy. For this reason, the drug is only available in the United States(under the brand name Revlimid) through a restricted distribution system called RevAssist. Females who may become pregnant must use at least two forms of reliable contraception during treatment and for at least four weeks after discontinuing treatment with lenalidomide.[1]
Venous thromboembolism
Lenalidomide, like its parent compound thalidomide, may cause venous thromboembolism (VTE), a potentially serious complication with their use. Bennett et al. have reviewed incidents of lenalidomide-associated VTE among patients with multiple myeloma.[26] They have found that there are high rates of VTE when patients with multiple myeloma received thalidomide or lenalidomide in conjunction with dexamethasone, melphalan, or doxorubicin. When lenalidomide and dexamethasone are used to treat multiple myeloma, a median of 14% of patients had VTE (range,3-75%). In patients who took prophylaxis to treat lenalidomide-associated VTE, such as aspirin, thromboembolism rates were found to be lower than without prophylaxis, frequently lower than 10%. Clearly, thromboembolism is a serious adverse drug reaction associated with lenalidomide, as well as thalidomide. In fact, a black box warning is included in the package insert for lenalidomide, indicating that lenalidomide-dexamethasone treatment for multiple myeloma is complicated by high rates of thromboembolism.
Currently,
 clinical trials are under way to further test the efficacy of lenalidomide to treat multiple myeloma, and to determine how to prevent lenalidomide-associated venous thromboembolism.
Stevens-Johnson syndrome
In March 2008, the U.S. Food and Drug Administration (FDA) included lenalidomide on a list of 20 prescription drugs under investigation for potential safety problems. The drug is being investigated for possibly increasing the risk of developing Stevens–Johnson syndrome, a life-threatening condition affecting the skin.[27]
FDA ongoing safety review
As of 2011, the FDA has initiated an ongoing review which will focus on clinical trials which found an increased risk of developing cancers such as acute myelogenous leukemia (AML) and B-cell lymphoma,[3] though the FDA is currently advising all people to continue their treatment.[28]
Mechanism of action
Lenalidomide has been used to successfully treat both inflammatory disorders and cancers in the past ten years.mechanisms of action, and they can be simplified by organizing them as mechanisms of action in vitro and in vivo.[29] In vitro, lenalidomide has three main activities: direct anti-tumor effect, inhibition of angiogenesis, and immunomodulation. In vivo, lenalidomide induces tumor cell apoptosis directly and indirectly by inhibition of bone marrow stromal cell support, by anti-angiogenic and anti-osteoclastogenic effects, and by immunomodulatory activity. Lenalidomide has a broad range of activities that can be exploited to treat many hematologic and solid cancers.
 There are multiple 
On a molecular level, lenalidomide has been shown to interact with the ubiquitin E3 ligase cereblon[30] and target this enzyme to degrade the Ikaros transcription factors IKZF1 and IKZF3.[31] This mechanism was unexpected as it suggests that the major action of lenalidomide is to re-target the activity of an enzyme rather than block the activity of an enzyme or signaling process, and thereby represents a novel mode of drug action. A more specific implication of this mechanism is that the teratogenic and anti-neoplastic properties of lenalidomide, and perhaps other thalidomide derivatives, could be disassociated.
Research
The low level of research that continued on thalidomide, in spite of its scandalous history of teratogenicity, unexpectedly showed that the compound affected immune function. The drug was, for example, recently approved by the FDA for treatment of complications from leprosy; it has also been investigated as an adjunct for treating some malignancies. Recent research on related compounds has revealed a series of molecules which inhibit tumor necrosis factor (TNF-α).
Price
Lenalidomide costs $163,381 per year for the average person in the United States.[3] Lenalidomide made almost $9.7bn for Celgene in 2018.[32]
In 2013, the UK National Institute for Health and Care Excellence (NICE) rejected lenalidomide for "use in the treatment of people with a specific type of the bone marrow disorder myelodysplastic syndrome (MDS)" in England and Scotland, arguing that Celgene "did not provide enough evidence to justify the £3,780 per month (USD$5746.73) price-tag of lenalidomide for use in the treatment of people with a specific type of the bone marrow disorder myelodysplastic syndrome (MDS)".[33]
SYN
https://link.springer.com/article/10.1007/s10593-015-1670-0
A new process for the synthesis of anticancer drug lenalidomide was developed, using platinum group metal-free and efficient reduction of nitro group with the iron powder and ammonium chloride. It was found that the bromination of the key raw material, methyl 2-methyl-3-nitrobenzoate, could be carried out in chlorine-free solvent methyl acetate without forming significant amounts of hazardous by-products. We also have compared the known synthetic methods for cyclization of methyl 2-(bromomethyl)-3-nitrobenzoate and 3-aminopiperidinedione to form lenalidomide nitro precursor.
SYN
SYN
EP 0925294; US 5635517; WO 9803502
Cyclization of N-(benzyloxycarbonyl)glutamine (I) by means of CDI in refluxing THF gives 3-(benzyloxycarbonylamino)piperidine-2,6-dione (II), which is deprotected with H2 over Pd/C in ethyl acetate/4N HCl to yield 3-aminopiperidine-2,6-dione hydrochloride (III). Bromination of 2-methyl-3-nitrobenzoic acid methyl ester (IV) with NBS in CCl4 provides 2-(bromomethyl)-3-nitrobenzoic acid methyl ester (V), which is cyclized with the aminopiperidine (III) by means of triethylamine in hot DMF to afford 3-(4-nitro-1-oxoisoindolin-2-yl)piperidine-2,6-dione (VI). Finally, the nitro group of compound (VI) is reduced with H2 over Pd/C in methanol (1, 2).
SYN
Bioorg Med Chem Lett 1999,9(11),1625
Treatment of 3-nitrophthalimide (I) with ethyl chloroformate and triethylamine produced 3-nitro-N-(ethoxycarbonyl)phthalimide (II), which was condensed with L-glutamine tert-butyl ester hydrochloride (III) to afford the phthaloyl glutamine derivative (IV). Acidic cleavage of the tert-butyl ester of (IV) provided the corresponding carboxylic acid (V). This was cyclized to the required glutarimide (VI) upon treatment with thionyl chloride and then with triethylamine. The nitro group of (VI) was finally reduced to amine by hydrogenation over Pd/C.
Lenalidomide
Synonyms:

CC-5013, CDC 501

ATC:

L04AX04

Use:

myelodysplastic syndrome (MDS)

Chemical name:

3-(4-amino-1,3-dihydro-1-oxo-2H-isoindol-2-yl)-2,6-piperidinedione

Formula:

C13H13N3O3
MW:

259.27 g/mol

CAS-RN:

191732-72-6

InChI Key:

GOTYRUGSSMKFNF-JTQLQIEISA-N

InChI:

InChI=1S/C13H13N3O3/c14-9-3-1-2-7-8(9)6-16(13(7)19)10-4-5-11(17)15-12(10)18/h1-3,10H,4-6,14H2,(H,15,17,18)/t10-/m0/s1
Trade Names
| Country | Trade Name | Vendor | Annotation |
| --- | --- | --- | --- |
| D | Revlimid | Celgene | |
| GB | Revlimid | Celgene | |
| USA | Revlimid | Celgene ,2005 | |
References
WO 9 803 502 (Celgene; 29.1.1998; USA-prior. 24.7.1996).
WO 2 006 028 964 (Celgene; 16.3.2006; USA-prior. 3.9.2004).
US 5 635 517 (Celgene; 3.6.1997; USA-prior. 24.7.1996).
medical use for treatment of certain leukemias:

US 2 006 030 594 (Celgene; 9.2.2006; USA-prior. 4.10.2005).
alternative preparation of III:

WO 2 005 005 409 (Siegfried Ltd.; 20.1.2005; CH-prior. 9.7.2003).
References
Further reading
External links
//////////LENALIDOMIDE, レナリドミド ,REVLIMID, Celgene Corporation, леналидомид , ليناليدوميد , 来那度胺 ,