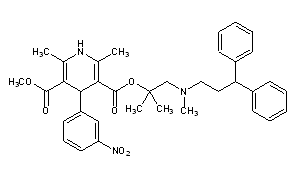 LercanidipineCAS Registry Number: 100427-26-7CAS Name: 1,4-Dihydro-2,6-dimethyl-4-(3-nitrophenyl)-3,5-pyridinedicarboxylic acid 2-[(3,3-diphenylpropyl)methylamino]-1,1-dimethylethyl methyl esterAdditional Names: methyl 1,1,N-trimethyl-N-(3,3-diphenylpropyl)-2-aminoethyl 1,4-dihydro-2,6-dimethyl-4-(3-nitrophenyl)pyridine-3,5-dicarboxylate; methyl 1,1-dimethyl-2-[N-(3,3-diphenylpropyl)-N-methylamino]ethyl 2,6-dimethyl-4-(3-nitrophenyl)-1,4-dihydropyridine-3,5-dicarboxylate; masnidipineMolecular Formula: C36H41N3O6Molecular Weight: 611.73Percent Composition: C 70.68%, H 6.76%, N 6.87%, O 15.69%Literature References: Dihydropyridine calcium channel blocker. Prepn: D. Nardi et al.,EP153016; eidem,US4705797 (1985, 1987 both to Recordati). Pharmacology: G. Bianchi et al.,Pharmacol. Res.21, 193 (1989). Clinical evaluation in hypertension: E. Rimoldi et al.,Acta Ther.20, 23 (1994).
Derivative Type: HydrochlorideCAS Registry Number: 132866-11-6Manufacturers' Codes: Rec-15-2375; R-75Trademarks: Lerdip (Recordati); Zanidip (Napp)Molecular Formula: C36H41N3O6.HClMolecular Weight: 648.19Percent Composition: C 66.71%, H 6.53%, N 6.48%, O 14.81%, Cl 5.47%Properties: Prepd as the hemihydrate, mp 119-123°. LD50 in mice (mg/kg): 83 i.p.; 657 orally (Nardi).Melting point: mp 119-123°Toxicity data: LD50 in mice (mg/kg): 83 i.p.; 657 orally (Nardi)
Therap-Cat: Antihypertensive.Keywords: Antihypertensive; Dihydropyridine Derivatives; Calcium Channel Blocker; Dihydropyridine Derivatives.
Masnidipine hydrochloride, Lercanidipine hydrochloride, TJN-324, Rec-15/2375, Lercan, Cardiovasc, Lerzam, Zanidip, Lerdip, Lercadip, Zanedip
Syn 1
EP 0153016; JP 60199874; US 4772621; US 4968832
Two new related ways for the synthesis of lercanidipine have been reported: 1) The condensation of diketene (I) with the aminoalcohol (II) gives the corresponding acetoacetate ester (III), which is allowed to react with 3-nitrobenzaldehyde (IV) by means of HCl in chloroform yielding the expected benzylidene derivative (V). Finally, this compound is cyclized with methyl 3-aminocrotonate (VI) in refluxing isopropanol. 2) By esterification of 2,6-dimethyl-4-(3-nitrophenyl)-1,4-dihydropyridine-3,5-dicarboxylic acid monomethyl ester (VIII) with alcohol (II) by means of SOCl2 in DMF/dichloromethane.
PATENT
https://patents.google.com/patent/WO2007054969A2/en
PATENT
https://patents.google.com/patent/EP1860102A1/en
PATENT