Ustekinumab
| | |
| --- | --- |
| CAS No: | 815610-63-0 |
| | |
| Molecular Weight: | 145.64 g/mol |
| Chemical Formula: | C9H18N2O2 |
| | |
| IUPAC Name: | Immunoglobulin G1, anti-(human interleukin 12 p40 subunit) (human monoclonal CNTO 1275 gamma1-chain), disulfide with human monoclonal CNTO 1275 kappa-chain, dimer |
HORSHAM, Pa., Sept. 23, 2013 /PRNewswire/ — Janssen Biotech, Inc., announced today that the U.S. Food and Drug Administration (FDA) has approved Stelara (ustekinumab) alone or in combination with methotrexate for the treatment of adult patients (18 years or older) with active psoriatic arthritis. It is estimated that more than two million people in the U.S. are living with psoriatic arthritis, a chronic autoimmune disease characterized by both joint inflammation and psoriasis skin lesions
read all at
http://www.drugs.com/newdrugs/stelara-ustekinumab-receives-fda-approval-active-psoriatic-arthritis-3903.html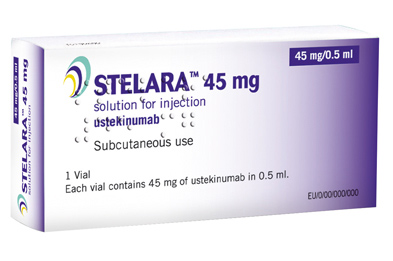 Ustekinumab  (INN, experimental name CNTO 1275, proprietary commercial name Stelara, Centocor) is a human monoclonal antibody. It is directed against interleukin 12 and interleukin 23, naturally occurring proteins that regulate the immune system and immune-mediated inflammatory disorders.

Ustekinumab is a fully human monoclonal antibody (mAb) targeting the interleukin (IL)-12/23p40 subunit.
Interleukins are  small soluble proteins that communicate between white blood cells (leukocytes), such as T cells. Interleukins mediate the differentiation, proliferation and many other processes of these cells. IL-12 and IL-23 are involved in the differentiation of naive T cells into T helper (Th) 1 and Th17 cells respectively.
Th1 and Th17 cells have been implicated in several autoimmune disorders, such as psoriasis. Ustekinumab targets the common p40 subunit of IL-12 and IL-23 to stop these cytokines from binding to their receptors and consequently preventing the development of Th1 and Th17 cells in an immune response.
In two Phase III trials for moderate to severe psoriasis, the longest >76 weeks, ustekinumab was safe and effective.

A third Phase III trial, ACCEPT, compared the efficacy and safety of ustekinumab with etanercept in the treatment of moderate to severe plaque psoriasis. This trial found a significantly higher clinical response with ustekinumab over the 12-week study period compared to high-dose etanercept. It also demonstrated the clinical benefit of ustekinumab among patients who failed to respond to etanercept.

Ustekinumab is approved in Canada, Europe and the United States to treat moderate to severe plaque psoriasis.

As of November 2009, the drug is being investigated for the treatment of psoriatic arthritis. It has also been tested in Phase II studies for multiple sclerosis and sarcoidosis, the latter versus golimumab (Simponi).
The US Food and Drug Administration (FDA) and European Union (EU) have approved the interleukin (IL) 12/23 inhibitor ustekinumab (Stelara, Janssen Biotech) for adults with active psoriatic arthritis who have not responded adequately to previous nonbiological disease-modifying antirheumatic drug therapy, the company announced today.
Approval of ustekinumab for psoriatic arthritis is "significant for patients and physicians as it marks the first treatment approved for this devastating and complex disease since the introduction of anti-TNF biologic medicines more than a decade ago," Jerome A. Boscia, MD, vice president and head of immunology development, Janssen Research & Development, LLC, said in a statement.
The European Medicine Agency's Committee for Medicinal Products for Human Use (CHMP) recommended approval of ustekinumab for active psoriatic arthritis in June, as reported by Medscape Medical News.
Ustekinumab is already approved in the US and EU for treatment of moderate to severe psoriatic plaques in adults. The drug, which can be used alone or in combination with methotrexate, is novel in that it targets both IL-12 and IL-23.
Image source: Crystal structure of human IL-12, Wikipedia, public domain
Ustekinumab binding to IL-12/23p40