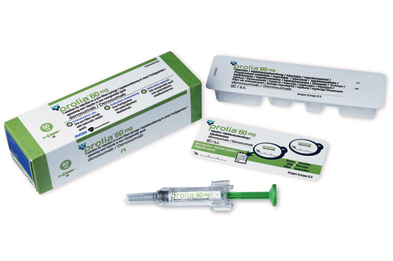 Daiichi Sankyo Receives Approval 25 mar 2013, in Japan for Manufacture and Marketing of PRALIA ® for the osteoporosis treatment PRALIA ®subcutaneous injection 60mg syringe (INN: Denosumab; genetic recombination) for the treatment of osteoporosis.
Denosumab[1] is a fully human monoclonal antibody for the treatment of osteoporosis, treatment-induced bone loss, bone metastases, rheumatoid arthritis, multiple myeloma, and giant cell tumor of bone.[2][3] It was developed by the biotechnology company Amgen.[4]
Denosumab is designed to inhibit RANKL (RANK ligand), a protein that acts as the primary signal for bone removal. In many bone loss conditions, RANKL overwhelms the body's natural defenses against bone destruction.
In June 2010, denosumab was approved by the U.S. Food and Drug Administration (FDA) for use in postmenopausal women with risk of osteoporosis under the trade name Prolia,[5] and in November 2010, as Xgeva, for the prevention of skeleton-related events in patients with bone metastases from solid tumors.[6] Denosumab is the first RANKL inhibitor to be approved by the FDA.[7] In the summer of 2011 clinical trials were investigating denosumab in giant cell tumors, multiple myeloma with bone metastases, and hypercalcemia of malignancy, and further investigating its dosing and safety.[8]