Home » Posts tagged 'Iran'
Tag Archives:
Iran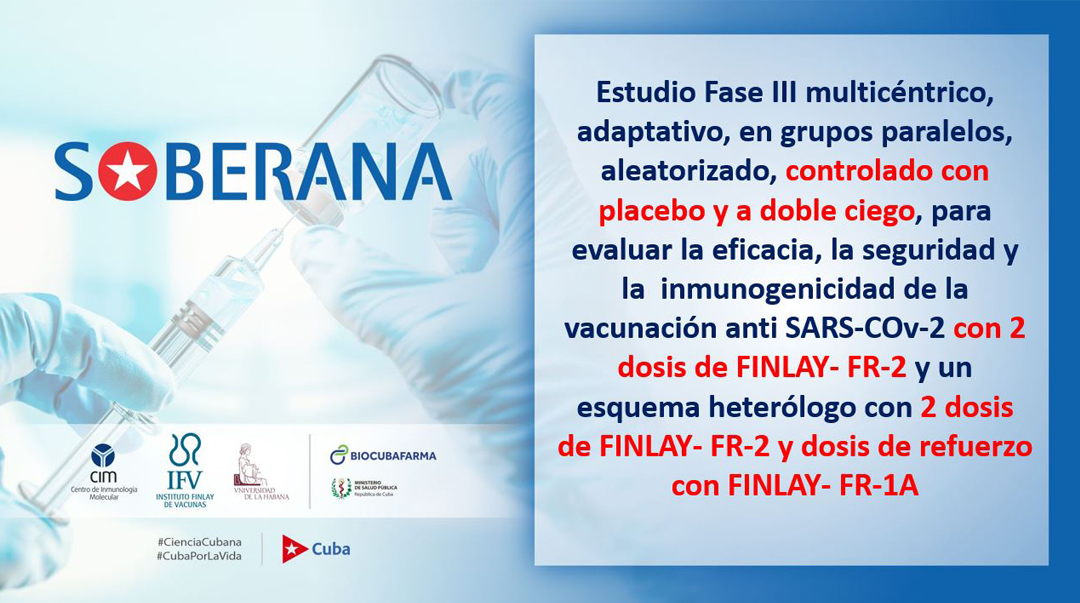 Soberana 02
FINLAY-FR-2
cas 2543416-58-4
A SARS-CoV-2 vaccine comprising a conjugate of the spike protein RBD domain with tetanus toxoid (Finlay Vaccine Institute of Cuba)
Soberana 02, is a conjugate vaccine developed by Instituto Finlay de Vacunas.[517]
Cuba[518]
Iran[517]
517 Zimmer, Carl; Corum, Jonathan; Wee, Sui-Lee. "Coronavirus Vaccine Tracker". The New York Times. Retrieved 30 June 2021.
518 Sesin, Carmen (14 May 2021). "Cuba begins mass Covid-19 vaccine inoculation before concluding trials". NBC News. Retrieved 2 July 2021.
Soberana 02, technical name FINLAY-FR-2, is a COVID-19 vaccine produced by the Finlay Institute, a Cuban epidemiological research institute. It is a conjugate vaccine. This candidate followed a previous one called SOBERANA-01 (FINLAY-FR-1).[2] Professor Ihosvany Castellanos Santos said that the antigen is safe because it contains parts instead of the whole live virus, and therefore it does not require extra refrigeration, like other candidates in the world.[3] According to the WHO candidate landscape vaccine document, this vaccine requires two doses, the second one being administered 28 days after the first shot.[4]
The name of the vaccine, Soberana, is a Spanish word that means "sovereign".[5]
Efficacy
It has shown an efficacy of 62% after only two doses, according to BioCubaFarma, though a pre-print or details of the study have not been released.[6][7][8]
Pharmacology
FINLAY-FR-2 is a conjugate vaccine. It consists of the receptor binding domain of the SARS-CoV-2 spike protein conjugated chemically to tetanus toxoid.[2]
Manufacturing
The spike protein subunit is produced in Chinese hamster ovary cell culture.[2] In a pre-print article scientists from Cuba explain details of the vaccines technology and production.[9][non-primary source needed]

Production Deliveries Planned Production Potential Production
Deliveries (0)Effective production (implies deliveries) (1)
Planned production
Iran
Potential Production
Ghana
Argentina
In Cuba
The Cuban government says it is planning to produce 100 million doses of its vaccine to respond to its own demand and that of other countries.[12][13] Cuba has also suggested that, once it's approved, it will offer the vaccine to tourists visiting the country.[14][15][16]
The production of the first batch of about 100,000 doses will start in April.[17] José Moya, representative of the World Health Organization and the Pan American Health Organization (PAHO) in Cuba, suggested that after the vaccine passes all clinical stages, it could be included as part of PAHO's Revolving Fund.[18]
The roll-out began with an "Interventional Trial"[19] that consisted of inoculating 150,000 at-risk participants which seems to be defined as health-care workers.[20][21] On April 11, 2021, the Ministry of Public Health of Cuba announced that 75,000 health-care workers were inoculated with their first dose of either of the two Cuba's Phase III vaccines (the other being Abdala).[22][23]
Outside Cuba
Vietnam, Iran, Venezuela, Argentina,[24][25][26] Pakistan, India, the African Union, Jamaica and Suriname[27] have expressed interest in purchasing the vaccine, although they are waiting on Phase 3 results.[28][29]
Iran has signed an agreement to manufacture the vaccine[30] and Argentina is negotiating one.[24][25][26] Additionally, the Cuban government offered a "transfer of technology" to Ghana and will also supply "active materials" needed to make the vaccine.[31][32][33]
While the price is currently unknown, the commercialization strategy of the vaccine will be a combination of the "impact on health" and the capability of Cuba's system to financially support "the production of vaccines and drugs for the country", per the director of the Finlay Institute, Vicente Vérez.[34]
Clinical trials
Phase I
FINLAY-FR-2, which started being developed in October 2020, had 40 volunteers for its Phase I, according to the Cuban Public Registry of Clinical Trials, with an open, sequential and adaptive study to assess safety, reactogenicity and explore immunogenicity of the vaccine.[35]
Phase II
Phase IIa involved 100 Cubans, and phase IIb of the vaccine will have 900 volunteers between 19 and 80 years.[36][37] Vicente Vérez, director general of the Finlay Vaccine Institute, said that the vaccine has shown to give an immune response after 14 days.[38] The second phase has been supervised by Iranian officials from the Pasteur Institute.[5]
Phase III
Phase III commenced at the beginning of March as originally scheduled,[39][15] and "ready to publish" results are expected by June.[40][41][42] The trial volunteers are divided into three groups: some will receive two doses of the vaccine 28 days apart, another group will get two doses plus a third immune booster (Soberana Plus[43][44][45]), and the third a placebo.[39]
Although the trials involve thousands of adult volunteers recruited in Havana,[46] Cuba's public health officials have said that they will also need to conduct phase III trials abroad because the island doesn't have an outbreak of sufficient scale to produce meaningful statistics on vaccine protection.[5][14]
On March 13, 2021, the Cuban Biotechnology and Pharmaceutical Industries Business Group (BioCubaFarma) announced on social media that it had sent 100,000 doses of its Soberana 02 coronavirus vaccine candidate to the Pasteur Institute of Iran for clinical testing, "as part of the collaboration with other countries in the development of COVID-19 vaccines." [47]
On April 26, 2021, it was reported that a Phase III conducted by the Pasteur Institute of Iran was approved to be started in Iran[48][49][50] It was previously reported that the Institute will host Phase 3 but the pre-requisites were "technology transfer and joint production".[51][5]
Mexico plans to host a phase 3 trial.[52]
Interventional Study
The "Interventional Study" is set both in Havana,[53] Cuba's capital and Santiago de Cuba, Cuba's second most populous city [54][55] and in other provinces.[56] On May 6, 2021, the Finlay Institute of Vaccines announced on social media that the following adverse events have been observed: injection site pain (20%), inflammation at the injection site (5%), and general discomfort (5%).[57][58]
Authorizations

Full authorization Emergency authorization
See also: List of COVID-19 vaccine authorizations § Soberana 02
References
External links
/////////////////SARS-CoV-2, covid 19, corona virus, vaccine, iran, cuba, Soberana 02, FINLAY-FR-2
 Nature (London, United Kingdom) (2021), 
COVIran Barakat
COVIran Barakat, is an inactivated virus vaccine developed by Shifa Pharmed Industrial Co in Iran.[501
https://en.trend.az/iran/society/3439812.html
BAKU, Azerbaijan, Jun. 14 2021
By Elnur Baghishov – Trend:
An emergency license was issued for the use of the Iranian-made "CovIran Barakat" vaccine against the coronavirus yesterday on June 13, the Iranian Minister of Health and Medical Education Saeed Namaki said, Trend reports citing IRNA.
He made the remark in an event dedicated to the launch of a number of health and medical facilities in Iran's Markazi Province today on June 14.
Namaki said that moreover, a license for the using of the Iranian-made "Pastor" vaccine against the coronavirus will be issued next week.
"Also, the licenses for the using of Iranian-made "Razi" and "Fakhra" vaccines will be issued in the near future," he added.
According to the minister, the Iranian population will be vaccinated fully by the end of autumn with the opportunities created in connection with the production of vaccines in Iran.
Reportedly, about 10 million people in Iran are planned to be vaccinated with the "CovIran Barakat' vaccine next week. The production of "CovIran Barakat" vaccine in Iran is expected to reach 50 million doses per month by the end of the summer.
On June 14, 26 health and medical facilities were launched in Iran's Markazi Province. A total of 1.45 trillion rials (about $34.5 million) has been spent on these facilities.
Iran continues to monitor the coronavirus situation in the country. According to recent reports from Iranian officials, over 3.03 million people have been infected, and 82,217 people have already died.
Meanwhile, over 2.66 million people have reportedly recovered from the disease.
The country continues to apply strict measures to contain further spread. Reportedly, the disease was brought to Iran by a businessman from Iran's Qom city, who went on a business trip to China, despite official warnings. The man died later from the disease.
The Islamic Republic only announced its first infections and deaths from the coronavirus on Feb. 19.
The outbreak in the Chinese city of Wuhan – which is an international transport hub – began at a fish market in late December 2019.
The World Health Organization (WHO) on March 11 declared COVID-19 a pandemic. Some sources claim the coronavirus outbreak started as early as November 2019.
A total of 5.2 million people have been vaccinated in Iran so far. About 4.35 million people were vaccinated on the first stage, and 851,000 people were vaccinated on the second stage.
COVIran Barakat is a COVID-19 vaccine developed by Iranian state-owned Shifa Pharmed Industrial Group. It has successfully been tested on animals and has been approved by the Iran Food and Drug Administration for testing on humans.[1][2][3] Phase 2/3 (II/III) clinical trial began on 13 March 2021,[4] and the first participants were inoculated on March 29.[5] Finally, the vaccine consumption license was issued on June 13, 2021.[6] Around 650 people worked in 3 shifts around the clock to develop the vaccine.[7]
Dr. Minoo Mohraz has been selected as the lead of the "Corona vaccine project in Iran".[8] Dr. Mohraz is an Iranian physician, scientist, and AIDS specialist. She is a Full Professor (Emeritus) of Infectious Diseases at Tehran University of Medical Sciences and head of the Iranian Centre for HIV/AIDS.[9] Dr. Mohraz has also served as within the World Health Organization as an expert on HIV/AIDS in Iran and the Eastern Mediterranean.[10]
This vaccine has been authorised for emergency use by the Iranian authorities. This makes it the first locally developed to be approved for emergency use in the Middle East.[11]
Technology
On 29 December 2020, human trials of Iran's first domestic COVID-19 vaccine candidate were started. The mechanism of production of this vaccine is based on the inactivated vaccine. In other words, "it is made of a coronavirus that has been weakened or killed by chemicals, similar to how polio immunizations are made."[12]
Development
Iran's first domestic COVID-19 vaccine candidate was started
Tayyebeh Mokhber, the first volunteer who receives a shot of COVIran Barakat was the daughter of Mohammad Mokhber director of setad. Minister of Health Saeed Namaki and Vice President for Science and Technology Sorena Sattari participated at the ceremony of vaccine injection. According to reports, there are more than 65,000 Iranians volunteered to test the vaccine and 56 selected people took part in the first phase of human trials which last 45 to 60 days.[13] The initial phase of human-testing for this vaccine started with the injection of 56 volunteers who were at the age of 18-50.[14][15][16]
The second/third group of volunteers were also injected with the vaccine.[17][18] According to the head of the vaccine production team at the Setad, the results show that this vaccine also neutralizes the British mutated COVID-19 virus.[19][20][21]
In March 2021, the Executive Office of Imam Khomeini's Order began a Phase II–III clinical trial of COVIran Barakat with 280 participants in cities including Tehran, Mashhad, Karaj, Esfahan, Shiraz. According to the allowance of medical equipment department, the second phase coincided with third phase.[22][23] The vaccine has reached its third phase of human-testing;[24] and the first injection(s) of the 3rd phase began 25 April 2021.[25]
As official in charge of manufacturing Iran Barakat vaccines, Mohammad Reza Salehi said, "some neighboring countries tend to enter the third phase of the clinical trial of the Iranian "COVIran Barakat"". They are reviewing recommendations to let them participate.[14]
Production
According to Setad (the Executive Headquarters of Imam's Directive), under the direct control of the Supreme Leader of Iran, "production of the vaccine developed by one of its companies, Shifa Pharmed, could reach 12 million doses per month, six months after a successful trial ends".[26] On 15 March 2021, he stated that EIKO has already a capacity of three million doses per month and that by end of June the capacity will be 15-20 million doses per month.[27][28]
On 29 March 2021, the Tehran Times reported that a capacity of three million doses per month was achieved;[citation needed] and the production line of 25 million doses per month of Iran Koo vaccine was discharged on 26 April 2021.[29]
On 10 May 2021, the first product of mass production of the Iranian corona vaccine called "COVIran Barakat" was unveiled in phase one of the vaccine production factory associated with Execution of Imam Khomeini's Order (EIKO). Therefore, 2 industrial lines have been set up. The first production line is prepared and the second line is being prepared. By the end of September (taking into account the capacity of three million doses of the first line), 20 million doses of Iran Barakat vaccine will be available in the month.[30]
Authorizations

Full authorization Emergency authorization
See also: List of COVID-19 vaccine authorizations § COVIran Barakat
References
External links
/////////COVIran Barakat, iran, coronavirus,  COVID-19,  vaccine, Shifa Pharmed, SARS-CoV-2