PAtent
https://patents.google.com/patent/CN103159659A/en
glycopyrrolate (I)
Methyl ethyl ketone (20mL) IOOmL three-necked flask was added 8 (4.6g, 15mmol) was, at (Γ5 ° C was added dropwise dibromomethane (2.9g, 30mmol) in butanone (5 mL) was added dropwise completed, continued The reaction was stirred for 15min, and a white solid precipitated, was allowed to stand 36h at room temperature, filtered off with suction, the filter cake was sufficiently dried to give crude ketone was recrystallized twice to give a white powdery crystals I (3.9g, 66%) mp 191~193 ° C chromatographic purity 99.8% [HPLC method, mobile phase: lmol / L triethylamine acetate – acetonitrile – water (1: 150: 49); detection wavelength: 230nm, a measurement of the area normalization method] .MS m / z: 318 ( m-BrO 1HNMR (CD3OD) δ:! 1.33~1.38 (m, 2H), 1.55~1.70 (m, 6H), 2.11~2.21 (m, 1H), 2.67~2.80 (m, 1H), 3.02 (m, 1H), 3.06 (s, 3H), 3.23 (s, 3H), 3.59~3.71 (m, 3H), 3.90 (dd, /=13.8,1H), 5.47 (m, 1H), 7.27 (t, 1H) , 7.35 (t, 2H), 7.62 (dd, 2H) .13C bandit R (DMSO) δ: 27.0, 27.4, 28.0, 31.3, 47.8, 53.8, 54.3, 66.0, 71.3, 74.6, 81.1, 126.9,128.7,129.3 , 143.2 17 5.00
Patent
https://patents.google.com/patent/WO2016204998A1/en
PAPER
https://link.springer.com/article/10.1007/s41981-018-0015-4
Sequential α-lithiation and aerobic oxidation of an arylacetic acid – continuous-flow synthesis of cyclopentyl mandelic acid
Open Access
Communications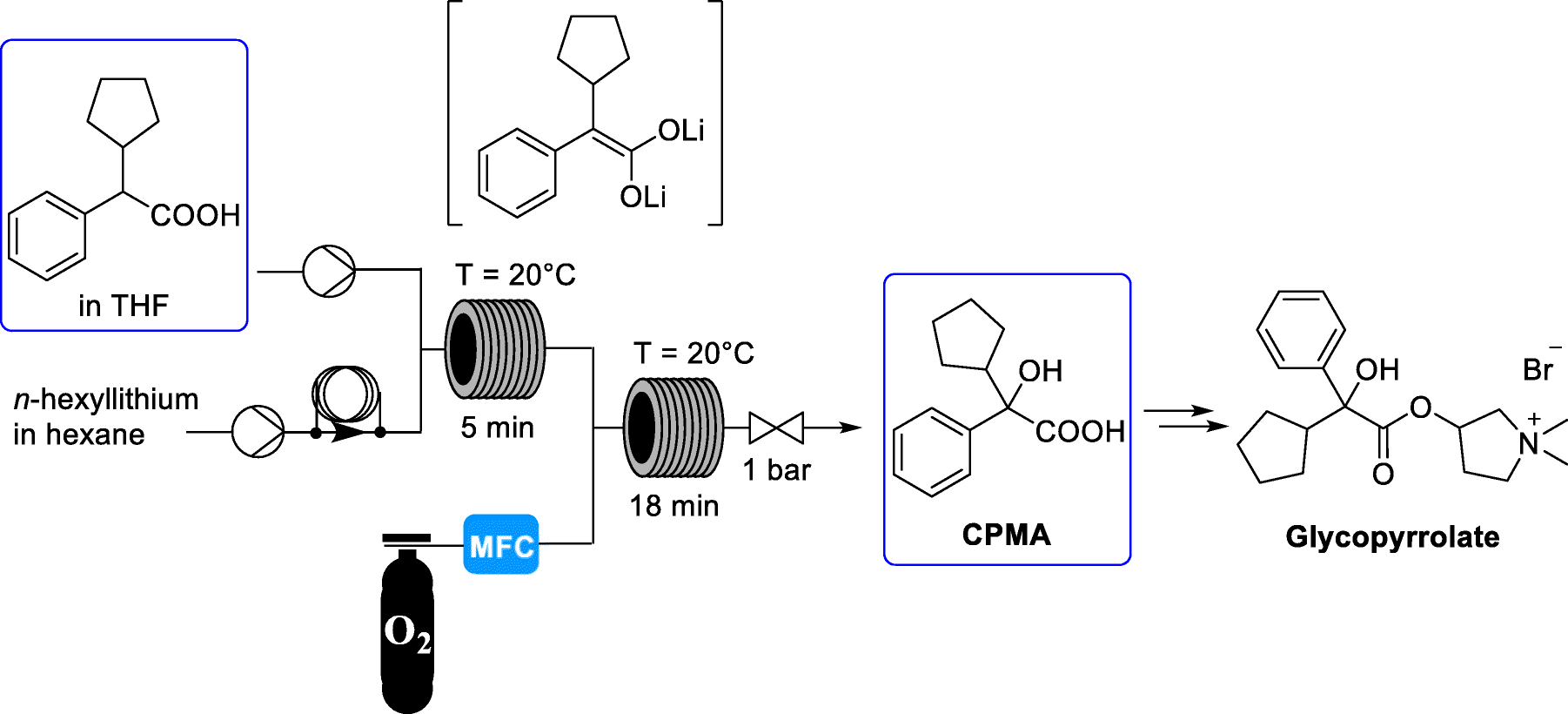 The medicinal properties of glycopyrronium bromide (glycopyrrolate, 4) were first identified in the late 1950s [1]. Glycopyrrolate is an antagonist of muscarinic cholinergic receptors and is used for the treatment of drooling or excessive salivation (sialorrhea) [2], excess sweating (hyperhidrosis) [3], and overactive bladder and for presurgery treatment. In addition, it has recently been introduced as an effective bronchodilator for the treatment of chronic obstructive pulmonary disease (COPD) for asthma patients [4]. Glycopyrrolate displays few side effects because it does not pass through the blood brain barrier. Cyclopentyl mandelic acid (CPMA, 1), or its corresponding ester derivatives, are key intermediates in the synthetic routes to 4. CPMA (1) reacts with 1-methyl-pyrrolidin-3-ol (2) to form tertiary amine 3. N-Methylation of 3 by methyl bromide gives quaternary ammonium salt glycopyrrolate 4 as a racemate (Scheme 1) [5].

CPMA (1) is a synthetically challenging intermediate to prepare (Scheme 2). Routes A to D are most likely to be the commercially applied methods because these procedures are described in patents [5]. The published descriptions for the yields of 1 range from 28 to 56% for routes A to D. Ethyl phenylglyoxylate is reacted with cyclopentyl magnesium bromide to form an ester which is then hydrolyzed (route A) [6]. Phenylglyoxylic acid can be reacted in a similar manner with cyclopentyl magnesium bromide to directly form 1 (route B) [7]. Alternatively, the inverse addition of phenyl-Grignard reagent to cyclopentyl glyoxylic acid ester is reported (route C) [8]. Cyclopentyl glyoxylic acid ester can also be reacted with cyclopentadienyl magnesium bromide which is followed by an additional hydrogenation step with Pd/C and H2 to afford 1 (route D) [9, 10].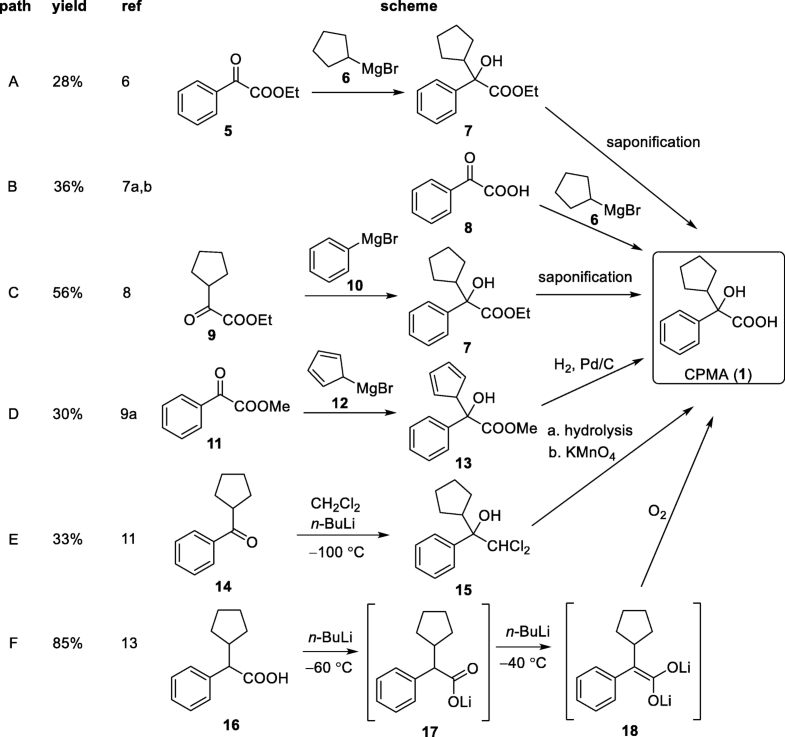 Publication number
Priority date
Publication date
Assignee
Title
US8859610B2
2013-02-28
2014-10-14
Dermira, Inc.
Crystalline glycopyrrolate tosylate
US9006462B2
2013-02-28
2015-04-14
Dermira, Inc.
Glycopyrrolate salts
US20160052879A1 *
2014-08-20
2016-02-25
Dermira, Inc.
Process for production of glycopyrronium tosylate
Family To Family Citations
WO2018026869A1
2016-08-02
2018-02-08
Dermira, Inc.
Processes for making, and methods of using, glycopyrronium compounds
| Patent ID | Title | Submitted Date | Granted Date |
| --- | --- | --- | --- |
| US9440056 | DEVICE AND METHOD FOR DISPENSING A DRUG | 2015-09-29 | 2016-03-31 |
| US2016058735 | METHODS OF TREATING HYPERHIDROSIS | 2015-08-27 | 2016-03-03 |
| Patent ID | Title | Submitted Date | Granted Date |
| --- | --- | --- | --- |
| US2017157088 | GLYCOPYRROLATE SALTS | 2017-02-21 | |
| US9610278 | Glycopyrrolate Salts | 2016-01-07 | 2016-04-28 |
| US2016052879 | PROCESS FOR PRODUCTION OF GLYCOPYRRONIUM TOSYLATE | 2015-08-19 | 2016-02-25 |
| US9006461 | CRYSTALLINE GLYCOPYRROLATE TOSYLATE | 2013-09-11 | 2014-08-28 |
| US2016243345 | DEVICE AND METHOD FOR DISPENSING A DRUG | 2016-05-04 | 2016-08-25 |
| Patent ID | Title | Submitted Date | Granted Date |
| --- | --- | --- | --- |
| US2016354315 | DOSAGE FORMS AND USE THEREOF | 2016-06-03 | |
| US9259414 | Glycopyrrolate Salts | 2015-03-10 | 2015-07-16 |
| US9006462 | Glycopyrrolate Salts | 2014-08-29 | 2014-12-18 |
| US8558008 | Crystalline glycopyrrolate tosylate | 2013-02-28 | 2013-10-15 |
| US8859610 | Crystalline glycopyrrolate tosylate | 2013-09-11 | 2014-10-14 |