Home » Posts tagged 'AMG 785'
Tag Archives:
AMG 785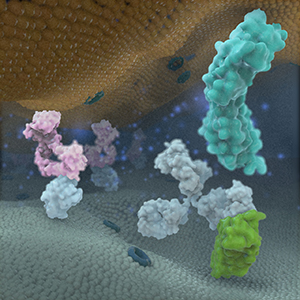 Romosozumab
ロモソズマブ (遺伝子組換え)
AMG 785
Immunoglobulin G2, anti-(human sclerostin) (human-mouse monoclonal 785A070802 heavy chain), disulfide with human-mouse monoclonal 785A070802 κ-chain, dimer
Immunoglobulin G2, anti-(human sclerostin) (humanized monoclonal 785A070802 heavy chain), disulfide with humanized monoclonal 785A070802 κ-chain, dimer
| | |
| --- | --- |
| Formula | C6452H9926N1714O2040S54 |
| CAS | 909395-70-6 |
| Mol weight | 145875.6186 |
Monoclonal antibody
Treatment of osteoporosis
Osteoporosis agent, Sclerostin activity inhibitor
JAPAN APPROVED 2019/1/8, Evenity
Romosozumab (AMG 785) is a humanized monoclonal antibody that targets sclerostin for the treatment of osteoporosis.[1]
Romosozumab was originally discovered by Chiroscience,[2] which was acquired by Celltech (now owned by UCB).[3] Celltech entered in a partnership with Amgen in 2002 for the product's development.[4]
In 2016 results from 12 months of a clinical study were reported.[5]
Some results from the FRAME[6] and ARCH clinical studies were reported on in 2017.[7]
Japan's Ministry of Health, Labor and Welfare has granted a marketing authorization for romosozumab (EVENITY) for the treatment of osteoporosis in patients at high risk of fracture. Developed by Amgen and UCB, romosozumab is a humanized IgG2 monoclonal antibody that targets sclerostin. The approval in Japan is based on results from the Phase 3 FRAME and BRIDGE studies, which included 7,180 postmenopausal women with osteoporosis and 245 men with osteoporosis, respectively.
A biologics license application (BLA) for romosozumab as a treatment of osteoporosis in postmenopausal women at high risk for fracture was submitted to the U.S. Food and Drug Administration (FDA) in July 2016, but additional safety and efficacy data was requested in the FDA's complete response letter, as announced by Amgen and UCB in July 2017. In July 2018, Amgen and UCB announced that the BLA had been resubmitted. In addition to data from early-stage clinical studies, the original BLA included data from the Phase 3 FRAME study. The resubmitted BLA includes results from the more recent Phase 3 ARCH study, an alendronate-active comparator trial including 4,093 postmenopausal women with osteoporosis who experienced a fracture, and the Phase 3 BRIDGE study. The FDA's Bone, Reproductive and Urologic Drugs Advisory Committee is scheduled to review data supporting the BLA for romosozumab at a meeting on January 16, 2019.
The European Medicines Agency is also currently reviewing a marketing application for romosozumab.
References
///////////Romosozumab, ロモソズマブ (遺伝子組換え)  , JAPAN 2019, Monoclonal antibody, Osteoporosis, AMG 785
Postmenopausal osteoporosis
Romosozumab is a humanized monoclonal antibody that inhibits the action of sclerostin. It is being developed in collaboration with UCB for the treatment of postmenopausal osteoporosis.
Sclerostin / Source: Wikimedia Commons and JMROL
Biloine Young • Thu, November 1st, 2012
Good news for postmenopausal women came from a report given by Michael R. McClung, M.D., at the annual meeting of the American Society for Bone and Mineral Research. McClung and colleagues have found an antibody that targets the Wnt signaling pathway and its osteocyte-regulating molecule sclerostin, which increases bone formation while decreasing bone resorption, according to Nancy Walsh, staff writer for 
MedPage Today
.
Walsh reports that one year of treatment with the antibody romosozumab (formerly AMG 785) led to an 11.3% absolute increase in bone mineral density (BMD) in postmenopausal women with low BMD (body mass index). That compared with BMD increases of only 7% with teriparatide (Forteo), 4% with alendronate (Fosamax), and no change with a placebo. "The discovery of sclerostin as an osteocyte-mediated stimulator of osteoblast function and bone formation opened the door for considering the inhibition of this protein and regulator as a target for osteoporosis treatment," McClung said.
To further explore the therapeutic potential of this antibody, the researchers conducted a Phase II study that enrolled 419 women whose lumbar spine, total hip, or femoral neck T-scores were between −2 and −3.5. The mean age of the participating women was 67. Researchers randomized participants to receive romosozumab in dosages of 70 mg, 140 mg, or 210 mg each month, 140 or 210 mg every three months, or a placebo.
The total hip increase in BMD with romosozumab was 4.1% at 12 months, which was approximately double that seen with alendronate and teriparatide. The researchers also saw changes in biomarkers of bone metabolism, McClung noted. The pattern seen with romosozumab, McClung said, was increases for serum P1NP, favoring bone formation, and decreases in serum CTX, suggesting a slowing of bone resorption after one week of treatment.
Adverse events were similar in the treatment groups. The most common was back or extremity pain. Serious adverse events occurred in 9.8% of the romosozumab groups and in 14% of the placebo group. The only treatment-related adverse events that occurred in the romosozumab groups were injection site reactions, but these were mild and did not lead to a discontinuation of treatment, said McClung.
jan 2014
Amgen/UCB osteoporosis drug shines in Phase II
Amgen and UCB have been boosted by promising mid-stage data for their investigational osteoporosis drug romosozumab.
A Phase II trial, the results from which have been published in the New England Journal of Medicine,showed that romosozumab demonstrated a significant increase in bone mineral density. Specifically, the trial demonstrated that, compared with placebo, treatment for 12 months with the anti-sclerostin biologic significantly increased BMD at the lumbar spine, total hip and femoral neck.
Amgen and UCB noted that significant increases were also observed in the first BMD assessment at three months and moreover, in exploratory analyses, increases observed at the lumbar spine and hip "were significantly greater than those observed with current treatments", namely Merck & Co's Fosamax (alendronate) and Eli Lilly's Forteo (teriparatide).
Iris Loew-Friedrich, chief medical officer at UCB, noted that romosozumab is designed to stimulate bone formation, "which makes it different from most available treatments that reduce bone resorption". She added that "we are encouraged by the emerging efficacy and safety profile, and look forward to further investigating its potential in the ongoing global Phase III clinical programme". Final data from the latter, which will enroll up to 10,000 patients, are expected by the end of 2015.
Sean Harper, Amgen R&D chief, noted that broken bones due to osteoporosis are common "yet the seriousness of this health event remains underappreciated, with only two in ten women receiving follow-up testing or treatment after they have broken a bone". He added that "with its bone-forming ability, romosozumab may result in new treatment strategies".
If all goes well in Phase III, many observers believe romosozumab could be a blockbuster.
Links
THANKS AND REGARD'S
DR ANTHONY MELVIN CRASTO Ph.D
GLENMARK SCIENTIST , NAVIMUMBAI, INDIA
did you feel happy, a head to toe paralysed man's soul in action for you round the clock
need help, email or call me
web link
I was  paralysed in dec2007, Posts dedicated to my family, my organisation Glenmark, Your readership keeps me going and brings smiles to my family