Home » Posts tagged 'Quinupramine'
Tag Archives:
Quinupramine
July 3, 2019 10:39 am / Leave a comment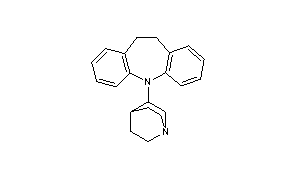 Quinupramine
キヌプラミン
5-(1-azabicyclo[2.2.2]oct-3-yl)-10,11-dihydro-5H-dibenz[b,f]azepine

Formula:

C21H24N2
MW:

304.44 g/mol

CAS:

31721-17-2
Quinupramine
CAS Registry Number: 31721-17-2
CAS Name: 5-(1-Azabicyclo[2.2.2]oct-3-yl)-10,11-dihydro-5H-dibenz[b,f]azepine
Additional Names: 10,11-dihydro-5-(3-quinuclidinyl)-5H-dibenz[b,f]azepine
Manufacturers' Codes: LM-208
Trademarks: Kinupril (Bellon); Kevopril (Rhone-Poulenc)
Molecular Formula: C21H24N2
Molecular Weight: 304.43
Percent Composition: C 82.85%, H 7.95%, N 9.20%
Literature References: Analog of imipramine, q.v. Prepn: C. Gueremy, P. C. Wirth, DE 2030492 (1971 to Sogeras), C.A. 74,141581e (1971). Animal studies: W. Van Dorsser, A. Dresse, Arch. Int. Pharmacodyn. Ther. 208, 373 (1974); eidem, ibid. 220, 164 (1976). Clinical study: R. Volmat et al., Clin. Neurol. Psychiat. 239, 445 (1978).
Properties: Crystals, mp 150°.
Melting point: mp 150°
Therap-Cat: Antidepressant.
Keywords: Antidepressant; Tricyclics.
Quinupramine (brand names Kevopril, Kinupril, Adeprim, Quinuprine) is a tricyclic antidepressant (TCA) used in Europe for the treatment of depression.[1][2]
Pharmacologically, quinupramine acts in vitro as a strong muscarinic acetylcholine receptor antagonist (anticholinergic) and H1 receptorantagonist (antihistamine), moderate 5-HT2 receptor antagonist, and weak serotonin and norepinephrine reuptake inhibitor.[3] It has negligible affinity for the α1-adrenergic, α2-adrenergic, β-adrenergic, or D2 receptor.[3]
Clinically, quinupramine is reported to be stimulating similarly to imipramine, desipramine, and demexiptiline.[4] It can be inferred that its in vivo metabolites may have stronger effects on the reuptake of norepinephrine and/or serotonin than quinupramine itself
SYN
References
DOS 2 030 492 (Sogeras; appl. 20.6.1970; GB-prior. 20.6.1969).
GB 1 252 320 (Sogeras; valid from 29.5.1970; prior. 20.6.1969).
//////////////Quinupramine, キヌプラミン